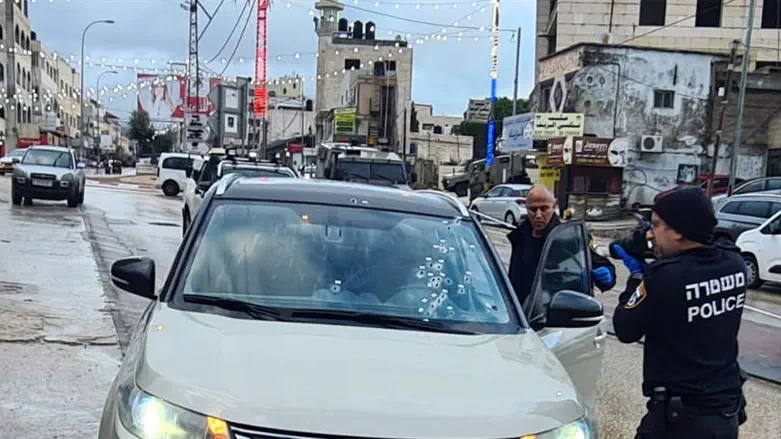 The victims' car
Nadav Goldstein/TPS
The Israeli man who was seriously wounded in a terrorist shooting attack in Samaria Sunday afternoon was able to return fire, wounding his attacker - despite having suffered a gunshot wound to the head, a Coalition lawmaker said Sunday evening.
MK Tzvi Sukkot, a recently-sworn-in member of the Religious Zionist Party's Knesset delegation and a long-time Yitzhar activist, tweeted Sunday that he knows the victim personally, offering details from the attack and its aftermath.
"I've known the wounded man for many years," Sukkot tweeted. "He is a dear friend, a professional fighter and the most cool under fire that there is."
"After sustaining a direct volley [of gunfire], he managed to return fire and wound the terrorist - and then treat himself. A miracle happened here!"
On Sunday afternoon, an Arab terrorist approached an Israeli vehicle on Route 60 inside the town of Huwara, a Palestinian Authority town which straddles the primary north-south road in Samaria, and opened fire with a Carlo-style submachine gun.
The driver, an American-Israeli man in his 40s, was shot in the head, while his wife was later treated for shock.
After the victim fired back at the terrorist, wounding him, the terrorist dropped his gun and fled the scene, before being neutralized by a group of IDF soldiers. According to the Palestinian Authority outlet WAFA, the terrorist was arrested.
The couple's children who were sitting in the back of the vehicle were not harmed in the attack.
Initially listed as being in serious condition, the victim's condition was updated to moderate-to-serious Sunday afternoon, and hospital officials say he is not in life-threatening danger.
"I am praying for the wounded hero injured in the attack in Huwara, who was able to neutralize the terrorist," Prime Minister Benjamin Netanyahu said. "I send my support to the security forces operating in the area. I reiterate: Anyone trying to harm the citizens of Israel will pay the price."