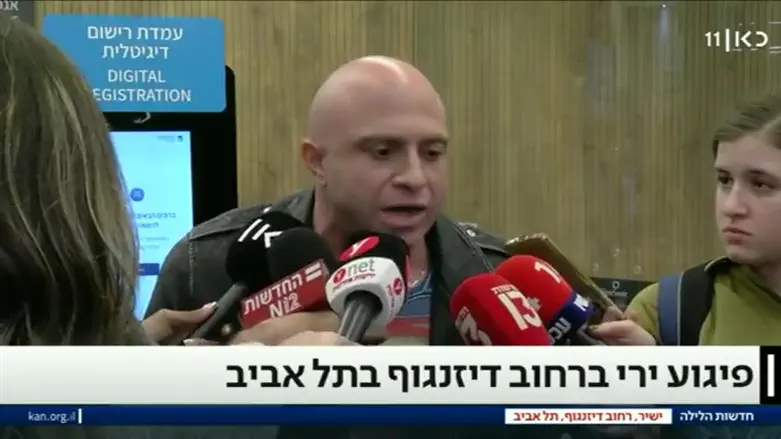 Ziv Shilon
Kan 11 News
Ziv Shilon, who was seriously wounded and lost his arm during an operation in the Gaza Strip in 2012, arrived at Ichilov Hospital in Tel Aviv on Thursday night, following the shooting attack on Dizengoff Street, in which one of his friends was wounded.
"We need to come to an understanding and address the number one issue that has been burning for decades," Shilon said. "We are living in the worst possible neighborhood in the center of the Middle East, surrounded by enemies. We must not get into a situation where we fight with each other and everyone on the outside sees it."
"We do not have the right to shell this country over the whim of one side or the other. We need to unite, this is a wake-up call. [Our enemies] are waiting for moments like this," Shilon added.
"Three more Israelis, dozens more families. We need to be together, that's more important than anything. We can come to an understanding on everything."
"I anticipated this, I was sure that what was happening here in the last few days, I knew that the false quiet was going to be broken and now we got just that. This is a huge message to the State of Israel and the people of Israel, to everyone who has something to do with the division among the people - stop, look at what is happening here, our enemies see us and know us and want to catch us in our moments of weakness and that is their goal. We need to be united and together."
Shilon said that he was making his way to a Purim party, to which his friend who was wounded in the Tel Aviv attack was also invited, when he received word of the attack.
"He was with me in the army for many years," said Shilon. "An officer in the Givati Brigade who served for years in combat positions, in a significant number of operations, every time he was summoned to the reserves, he would put his uniform on, take his weapon and report for duty. Wake up, people are giving their lives for this country. We cannot lose control in this way. This is the biggest problem, that our enemies see us as weak."
Hebrew video:

חברו של זיו שילון נפצע והוא זועק להתאחד
חדשות הערב, כאן 11
Three people were wounded, including one critically, one seriously and one lightly, in Thursday's terrorist shooting attack in the heart of Tel Aviv.
The shooter was eliminated by police and security forces.
The wounded, who are reported to be men in their 20s, have been taken to Ichilov Hospital where medical personnel later reported that their lives are not in danger.