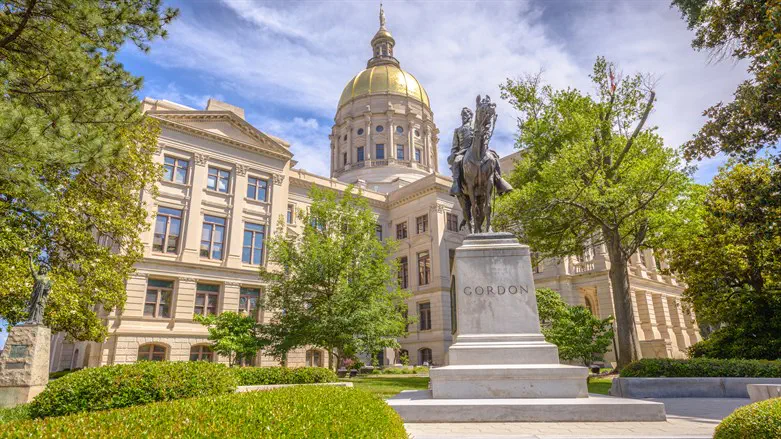 Georgia State capitol building
iStock
The Georgia House of Representatives passed a bill on Monday that would adopt the International Holocaust Remembrance Alliance (IHRA) definition of antisemitism across the state.
The measure, House Bill 30, passed the House 136-22 with bipartisan support.
It would enact into state law the IHRA definition of antisemitism and would provide for additional enhanced criminal penalties when hate crimes are committed due to antisemitism, according to the Clayton News-Daily.
Antisemitic discrimination complains investigated by state agencies would also have to evaluated using the definition.
The measure will now head to the Georgia Senate for a vote.
Supporters of the bill said adding a definition of antisemitism to state law was necessary because officials don't always recognize when antisemitism is involved in an incident, News9 reported.
One of the bill's sponsors, Democratic state Rep. Esther Panitch, Georgia's only Jewish lawmaker, said that the measure was essential in order to legally define antisemitism.
"You need a definition to be able to say that a swastika is antisemitic," Panitch told the outlet. "It's as simple as that. Things that you think would be obvious are not obvious."
The bill was introduced to the legislature after Atlanta Jewish areas were target with antisemitic flyers from the Goyim Defense League hate group in early February.
"White Supremacist group 'Goyim Defense League' targets Georgia's Jewish suburbs of Dunwoody & Sandy Springs with their latest antisemitic flyer campaign," StopAntisemitism tweeted at the time.
"Why aren't law enforcement officials and judicial partners stopping these targeted harassment hate incidents?"
Panitch referred to the incident and how it traumatized children.
"Children who went out to play on their driveway picked up baggies filled with hate and asked their parents, `What is this?'" Panitch said. "A bill of this type should be uncontested. It gives our legal system a clear definition of antisemitism."