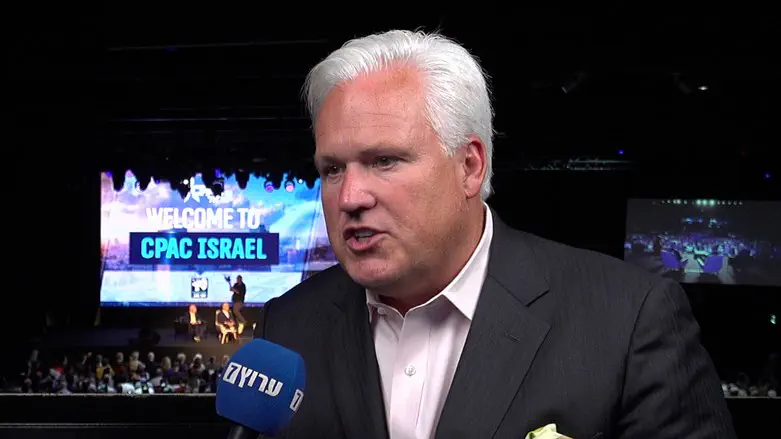 Matt Schlapp, CPAC Chairman
Israel National News
Notorious white supremacist Nick Fuentes was kicked out of the Conservative Political Action Conference (CPAC) on March 3 for holding antisemitic views.
Fuentes, who was listed as a white supremacist by the Justice Department, had attempted to attend the conference until his presence came to the attention of CPAC officials.
American Conservative Union (ACU) Chair Matt Schlapp denounced Fuentes's "hateful racist rhetoric" in a social media statement.
"We removed Nick Fuentes from his attempt to attend our conference. His hateful racist rhetoric and actions are not consistent with the mission of CPAC," Schlapp said on Instagram.
"We are pleased that our conference welcomes a wide array of conservative perspectives from people of different backgrounds, but we are concerned about the rise in antisemitic rhetoric (or Jew hatred) in our country and around the globe, whether it be in the corridors of power and academia or through the online rantings of bigots like Fuentes."
Fuentes issued a response on Telegram, stating he has been "kicked out of CPAC." In a second post, he wrote: "Most cancelled man in America."
After being kicked out of the conference, Fuentes used a hotel across the street to hold his own "post-CPAC" far-right conference on Saturday, according to reports. He attempted to keep the location secret until the event started, telling his Telegram following he would only release information about the time and location following former President Donald Trump's CPAC speech on Saturday night.
Fuentes has hosted the America First Political Action Conference (AFPAC) at locations near CPAC beginning in 2020. The meetup has included white nationalists and extremists with far-right views, and controversially hosted several Republican lawmakers, including in 2022 Rep. Paul Gosar (R-AZ) and Rep. Marjorie Taylor Greene (R-GA).