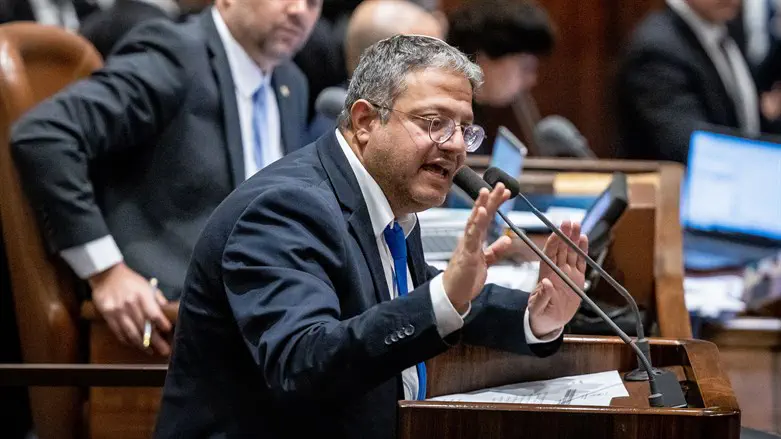 Itamar Ben-Gvir
Yonatan Sindel/Flash90
Israeli National Security Minister Itamar Ben-Gvir (Otzma Yehudit) has ordered the police department to continue carrying out demolition orders on illegal Arab buildings in eastern Jerusalem during the upcoming Islamic holy month of Ramadan, Kan Reshet Bet reported Monday morning.
For years, Israeli authorities have halted home demolitions during the month of Ramadan, in the hopes of reducing tensions.
According to the report, the police department is preparing to comply with Minister Ben-Gvir's instructions, despite calls by Israel's top security brass to avoid steps during Ramadan which could escalate tensions.
Ben-Gvir's office refused to comment on the report, saying that the "minister does not discuss what goes on in closed hearings."
Officials privy to the details of talks between Prime Minister Benjamin Netanyahu and senior security officials, including Netanyahu's military secretary Avi Gil, IDF Chief of Staff Herzi Halevi, Shin Bet director Ronen Bar, police chief Yaakov Shabtai, said that Israel's top security brass are unanimous in backing a freeze on home demolitions in eastern Jerusalem.
Netanyahu dispatched his military secretary Avi Gil to convince Ben-Gvir of the need to freeze the demolitions
Ben-Gvir refused Gil's overtures, saying: "It is no secret that there are some in our security establishment who have this idea that we dare not breathe during Ramadan."
"This idea of quiet is nonsense. We need to end this approach. I favor the carrot-and-stick approach."
"In the past, the police really did not go into eastern Jerusalem to enforce the law. We must not change our lives because of Ramadan. We must embrace the people who want to live quiet lives."
Since Ben-Gvir took office in late December, the number of demolitions of illegal structures in eastern Jerusalem has increased dramatically, as part of the minister's program to crackdown on illegal Arab construction.
Seventy illegal buildings were demolished in eastern Jerusalem from the beginning of the year through March 2nd, compared to just 35 during the same period in 2022, 22 in 2021, and 43 in 2020.