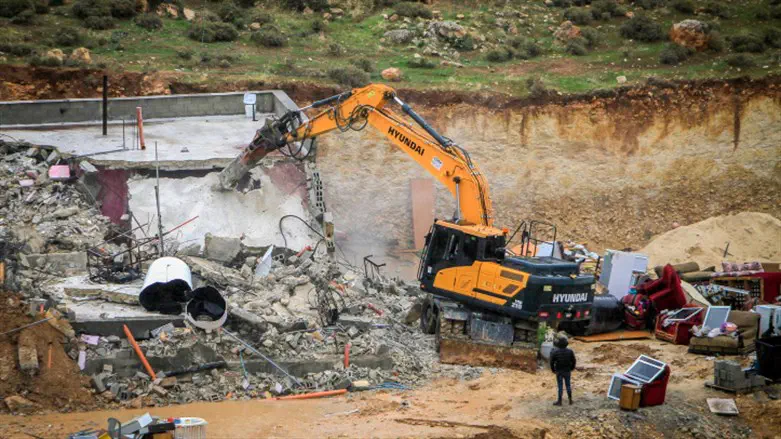 Israeli authorities destroy an illegal home in the village of Duma, February 2, 2023
Nasser Ishtayeh/Flash90
The number of enforcement operations carried out against illegal Arab buildings in Judea, Samaria, and eastern Jerusalem rose sharply under the new Netanyahu government this year.
According to data collected by the United Nations Office for the Coordination of Humanitarian Affairs, (OCHA), the number of illegal Arab structures in Jerusalem which were demolished from January 1st through February 7th of this year is more than double the number reported during the same period last year.
During that period, Israeli authorities demolished 42 buildings in eastern Jerusalem, evicting 53 squatters.
Last year, during the same 38-day period, just 18 structures were demolished.
From January 1st through February 7th, 2021 – under the previous Netanyahu government – just four buildings were demolished, compared to 26 a year earlier, 15 during the equivalent period in 2019, 20 in 2018, 19 in 2017, 21 in 2016, 6 in 2015, 12 in 2014, and 23 in 2013.
Over the past ten years, from 2013 through 2022, Israeli police have demolished on average 12.4 illegal Arab buildings in eastern Jerusalem per month, with 1,492 structures demolished in total.
National Security Minister Itamar Ben-Gvir (Otzma Yehudit) has pushed authorities to carry out pending demolition orders against illegal Arab buildings across the capital.
Last month, Ben-Gvir ordered 14 additional structures demolished, seven of which were razed by the end of the month.
Demolitions in Jerusalem reached their highest level on record over the past 38 days despite the intervention of Prime Minister Benjamin Netanyahu, who earlier this week ordered the postponement of the planned demolition of a massive illegal residential building in Wadi Qadum, which reportedly houses some 100 residents.
Ben-Gvir vowed that the demolition order would be carried out, despite the delay.
On Tuesday, Axios reported that Netanyahu has agreed to limit the number of demolition operations against illegal Arab buildings, as part of a "pause" pushed by US Secretary of State Antony Blinken.
Outside of the capital, the number of illegal Arab buildings demolished in Area C of Judea and Samaria has also risen significantly under the new government, with 102 structures razed over the last 38 days, with 137 squatters evicted.
Over the equivalent period last year, just 45 buildings were razed, with 38 squatters evicted. Sixty-nine demolitions took place during that period in 2021 with 59 squatters evicted, compared to 30 demolitions with 46 squatters evicted in 2020, 44 demolitions with 37 squatters evicted in 2019, and 12 demolitions with 10 squatters evicted in the 38-day period in 2018.