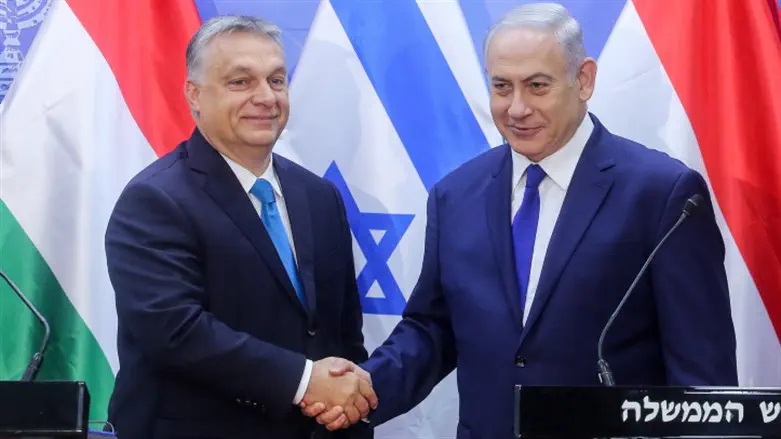 Benjamin Netanyahu and Hungarian Prime Minister Viktor Orban
Marc Israel Sellem/POOL
Hungary is planning on relocating its embassy in Israel from Tel Aviv to Jerusalem, Zman Yisrael reported Friday morning.
The move is set to take place in April, and is reportedly intended as a personal gesture by Hungarian Prime Minister Viktor Orban to his Israeli counterpart, Benjamin Netanyahu.
Once completed, the move will make Hungary the first European Union member state to open an embassy in Israel's capital. The EU has called for a final status agreement between Israel and the Palestinian Authority before it recognizes Jerusalem as the capital of the Jewish state.
The details of the embassy relocation were ironed out recently during talks between the Israeli and Hungarian foreign ministers, Eli Cohen and Péter Szijjártó.
Senior officials from the Israeli Foreign Ministry confirmed to Zman Yisrael that the move is expected to take place next month, and was initiated by Prime Minister Orban in order to boost Netanyahu amid criticism at home and abroad over his government's plan to reform the Israeli judiciary.
The report comes just days after Papua New Guinea announced its own plans to open an embassy in Jerusalem.
On Sunday, the Israeli Foreign Ministry announced that Foreign Minister Justin Tkachenko had notified Foreign Minister Eli Cohen that Papua New Guinea intends to open an embassy in the Israeli capital city later this year.
The embassy will be the island nation's first permanent diplomatic mission in Israel.