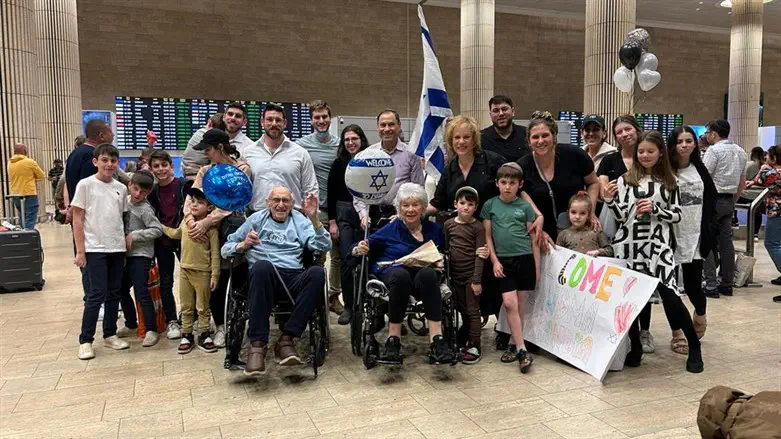 Sanford and Rosalie Goldstein
Seagalit Hagege
Sanford (Sandy) Goldstein (age 101) and his wife of 75 years Rosalie Goldstein (age 97) made aliyah from Englewood, New Jersey – the culmination of a life-long dream. They were accompanied by their daughter, Israeli-American Risa Shapiro, who will settle them into her own home in Ir Yamim, Netanya. In a community-wide initiative launched by Nechama Levy, founder of Alynu, a non-profit aimed at facilitating the successful integration of olim, the couple were welcomed and supported by local residents, who are coming together to provide food and offer any assistance that is required to help in their acclimatization to their new home.
After many years of Zionist activism, Sandy applied for Aliyah in his forties. The Jewish Agency attempted to dissuade him, saying it was a hard life without American conveniences, but he never gave up on his dream, despite being told he was too old and the country needed younger men. Now, after more than half a century, he and his wife have finally fulfilled thir dream of living in Israel.
They were greeted at Ben Gurion arrivals hall by their five grandchildren and 12 great grandchildren living in Israel, among others. The family wishes to share their inspirational story to show that to come and live in Israel is a dream that is uniquely fulfilling and it is never too late.
Risa Shapiro said: "During these times of sorrow and heartbreak, we as a united Am Yisroel, cry together and celebrate together as one. As Grandpa Goldstein says " Be Strong and steadfast"-- like Joshua said "Chazak V Ematz"