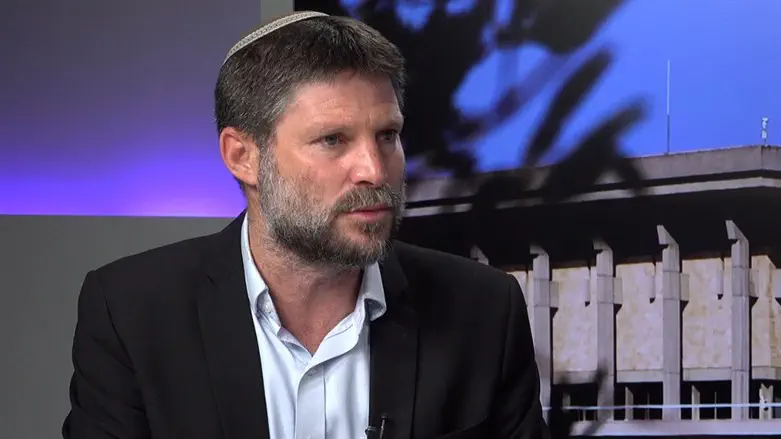 Bezalel Smotrich
Israel National News
Minister Bezalel Smotrich on Sunday evening condemned riots by Jews in the village of Huwara following the terrorist attack in which brothers Hillel and Yagel Yaniv were murdered.
"My fellow residents, the pain is great, but believe me, we are working hard to provide a real response to terrorism, both militarily and with settlement. Since the terrible attack, we have only been preoccupied with this. But we must not take the law into our hands and create a dangerous anarchy that could get out of control and cost human lives. Allow us, as the political echelon, to formulate the answer and for the IDF to win," Smotrich said.
Prime Minister Benjamin Netanyahu issued a statement on Sunday evening condemning the attack while also calling for restraint, urging Israelis against vigilante actions.
"A terrible tragedy occurred today. I would like to send condolences to the Yaniv family, which lost two of its dear sons; may God avenge them."
"The IDF and the security forces are currently in pursuit of the murderer. We will find him. We will apprehend him and we will settle accounts with him."
"I ask – even when the blood is boiling – not to take the law into one's hands. I ask that the IDF and the security forces be allowed to carry out their work. I remind you that in recent weeks, they have targeted dozens of terrorists and thwarted dozens of attacks."
"Let the IDF complete its pursuit and do not take the law into your hands; together we will defeat terrorism."
Defense Minister Yoav Gallant added, "Even at the end of a difficult and painful day, in which two young brothers were murdered by a vile terrorist, I call on the citizens of Israel: Do not take the law into your own hands. Violations of order in Huwara endanger the citizens, and harm the activities of the security forces in the hunt for the terrorists. I trust the commanders and soldiers of the IDF, and I am sure that they will put their hands on the murderers."
President Isaac Herzog said, "Taking the law into our own hands, riots and violence against innocent people - are not our way and I strongly condemn it. We must allow the IDF, the Israel Police and the security forces to capture the despicable terrorist and restore order immediately."