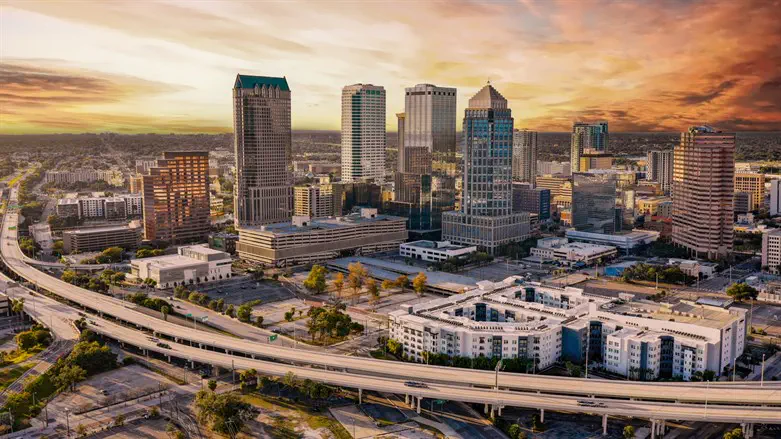 Florida
iStock
A group of white supremacists gathered in front of a Chabad house in Orlando, Florida during services last Friday night, harassing congregants, including elderly Jews.
According to the StopAntisemitism NGO, the Goyim Defense League hate group, led by Jon Minadeo II, were filmed shouting hateful slurs at Jews in front of the Orlando synagogue.
The members of the extremist group yelled antisemitic abuse such as "Get Back to Israel!" and "You Belong in the Oven!" according to a video of the incident posted to social media by StopAntisemtism, who has tracked the group's distribution of antisemitic flyers across the US and named Minadeo as its "Antisemite of the Week."
Minadeo also harassed elderly Jews in front of the Chabad house and passing motorists by shouting antisemitic insults at them with a megaphone.
"'You Jewish? Go back to Israel … you stupid f***ing Jews' - this antisemitic harassment campaign being orchestrated across Florida by Jon Minadeo II and his white supremacy group 'Goyim Defense League' must be stopped!" StopAntisemitism tweeted. "Enough is enough. [Florida Governor Ron DeSantis], please act!"
They called for DeSantis to denounce the incident and to coordinate with police: "A statement of condemnation would be a fantastic start followed by direct communication with law enforcement departments that are dealing with this, some more than once such as Jacksonville and [West Palm Beach]."
The NGO added that "Minadeo and other members of 'Goyim Defense Leauge' [were] asking elderly Jews if they believe Jewish people were really turned into soap & lamp shades during the Holocaust. This is pure, targeted harassment of Jews."
They noted that a "red headed woman actually brought two little girls to the Nazi fest – throwing up a Heil Hitler salute with one of the small tots. Sickening."
(Israel National News' North American desk is keeping you updated until the start of Shabbat in New York. The time posted automatically on all Israel National News articles, however, is Israeli time.)