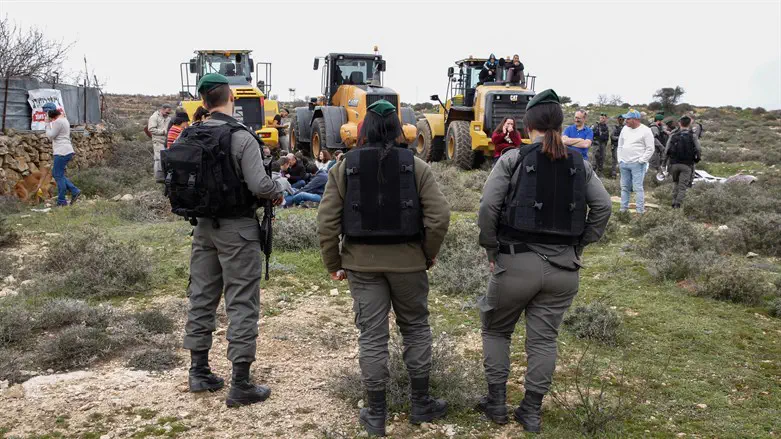 Civil Administration and Border Policemen arrive with tractors to demolish Netiv HaAvot in
Flash 90
Four-and-a-half years after the destruction of 15 homes in Elazar's Netiv Ha'avot neighborhood, this morning (Wednesday) the Civil Administration's Higher Planning Committee greenlighted 433 housing units in the neighborhood.
In addition, over 1,000 units were approved throughout Gush Etzion, while the eastern Gush community of Pnei Kedem was officially registered within the Israel Land Registry (Tabu).
Back in 2018, Israel's Suprme Court ordered the demolition of 15 Netiv Ha'avot homes, which was carried out in June of that year. The court ordered the entire houses destroyed despite the fact that only a tiny part of the buildings, about two percent, was built on land where the ownership was disputed.
After being evicted, the fifteen families were allotted a sum of money to build equivalent homes elsewhere and meanwhile, provided with temporary housing. The families were supposed to receive the lump sum of money within a few months of the eviction, along with a portion of land on which to build - a similar settlement to that reached with the families of the destroyed community of Amona in Binyamin, who rebuilt their community in Amichai.
However, the funds were withheld for four years, until the government decided to release them in May 2022 at the initiative of former MK Nir Orbach (Yamina).
At the time Gush Etzion Regional Council Head Shlomo Ne'eman drafted an official resolution stating that hundreds of housing units would be built in the exact location of the 15 homes.
In response to today's approval Ne'eman, who also heads the Yesha Council of Jewish communities in Judea and Samaria, said: "Today we are privileged to close the circle that started exactly six years ago, when I assumed the role of council chairman. Back then the court responded to those trying to save their homes – by destroying. Today, that "curse" became a blessing with the new approvals."
Ne'eman added: "Today's approval of over 400 units, to be built alongside the 68 homes currently in Netiv Ha'avot, along with the other approvals throughout Gush Etzion and Judea and Samaria as a whole, is a tremendous boost. I want to thank Prime Minister Binyamin Netanyahu, Defense Minister Yoav Galant, Finance Minister Bezalel Smotrich, National Security Minister Itamar Ben-Gvir, the entire Cabinet and government ministers. May we continue to build communities throughout Gush Etzion, Judea and Samaria, and the entire Land of Israel."