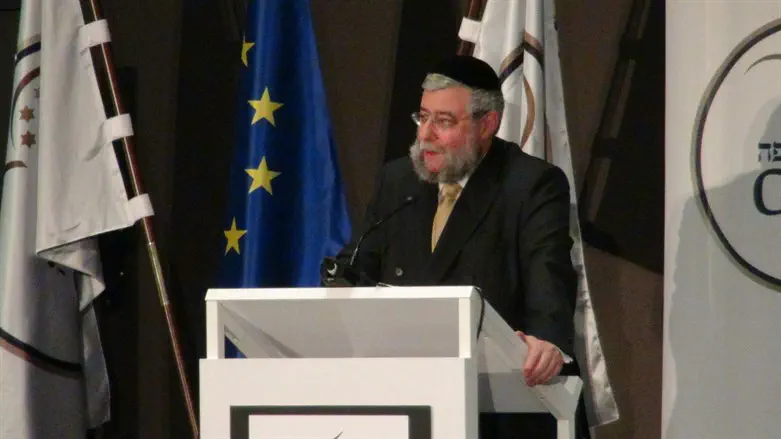 Rabbi Pinchas Goldschmidt
Yoni Kempinski
Chief Rabbi Pinchas Goldschmidt, President of the Conference of European Rabbis and exiled Chief Rabbi of Moscow, has responded to a message in a Russian Telegram group called, "Disclosed". The group has almost 23,000 subscribers.
The message called, among other things, for consideration of the proscription of Chabad as an 'undesirable' organization in Russia and the banning of its activities across the Russian Federation. It also called for an investigation into Chabad foundational text, the Tanya, "for signs of extremism: propaganda of the exclusivity and superiority of Jews over other peoples, the inferiority of non-Jews, racism, Nazism and misanthropy, consider recognizing it as extremist material and banning it on the territory of Russia".
Reacting to these reports, Chief Rabbi Goldschmidt said: "This apparent initiative, if found to be genuine, follows the pattern of the words of the secretary of the Security Council of Russia of a few months ago. This manifestation of antisemitism is a grave indicator of the worsening situation for Jews in Russia. It should be clear that this attack against the Chabad Lubavitch community, which is prominent in Russia, is an attack against the whole Jewish community."
Rabbi Goldschmidt left Russia in March 2022, two weeks after outbreak of Russia's invasion of Ukraine, after serving as Moscow's Chief Rabbi for 30 years. His daughter-in-law, the journalist Avital Chizhik-Goldschmidt, said recently that Rabbi Goldschmidt had been pressured to support the war publicly but had declined to do so.
The Moscow Jewish Religious Society stated in July that Rabbi Goldschmidt was no longer the city's chief rabbi. Moscow has been without a chief rabbi ever since.
This is not the first time the Russian government has reportedly targeted a Jewish organization since the outbreak of the war with Ukraine a year ago. In July, the Russian government ordered the Jewish Agency, which facilitates the immigration of Jews to Israel, to cease all activities in Russia, before seeking to liquidate the Jewish Agency's operations in the country