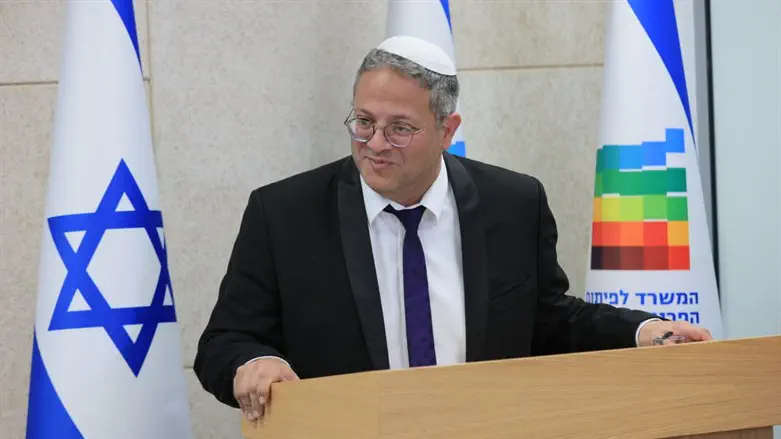 Itamar Ben Gvir
Asi Efrati/GPO
Minister of National Security Itamar Ben Gvir instructed the professional officials in his ministry not to grant a gun license to Attorney David Hodek, who caused an uproar last week after he said during a conference of the Israel Bar Association, "I will not live in a dictatorship even if it means fighting with weapons."
Recently, following Ben Gvir's guidance, the firearms licensing department raised the number of firearm license recipients from approximately 2,000 licenses per month to 10,000 licenses per month. This is a 500% increase in granting licenses for weapons. In just the last three days, over 1000 licenses were granted.
In this framework, the Ministry of National Security carried out extensive work, as part of which it was discovered that Hodek was among those who recently applied for a weapons license.
The professional officials at the Ministry referred the request to Ben Gvir, who decided that, in light of his recent remarks, the request would be rejected for the time being.
"Those who call for the use of weapons will not be granted a license for weapons," Ben Gvir clarified to the members of his Ministry and asked them to act in this spirit.
Hodek has since apologized for his remarks and said, "My words were misinterpreted. I oppose violence. I have never acted violently. We must not be dragged into a civil war. There will only be losers from such a war."
Despite the apology, Hodek was questioned on Sunday at the offices of the Lahav 433 unit of the Israel Police. At the end of the interrogation, he was released on bail.