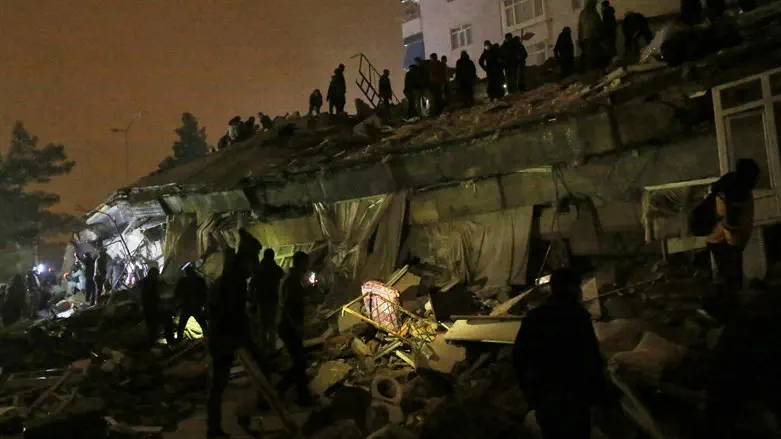 Ruins of building destroyed in the earthquake in Turkey
REUTERS
Israel offered to provide humanitarian aid to Turkey Monday morning, following a devastating earthquake that killed dozens in southern Turkey overnight.
Hours after the earthquake, Israeli Minister of Defense Yoav Gallant (Likud) instructed the IDF and Ministry of Defense to prepare for the provision of humanitarian aid.
"Our security forces are prepared to provide any aid that will be required. The defense establishment is experienced in responding to emergency scenarios and saving lives," said Gallant.
Israeli President Isaac Herzog offered his condolences to the relatives of the victims of the earthquake.
"On behalf of the Israeli people, I am deeply saddened by the enormous disaster that has befallen Turkey following last night's earthquake. My condolences to President Erdoğan and the Turkish people for the loss of life and destruction of livelihoods. "The State of Israel always stands ready to assist in every way possible. Our hearts are with the grieving families and the Turkish people at this painful moment."
Foreign Minister Eli Cohen (Likud) also released a statement Monday morning offering his condolences.
"In the name of the State of Israel, I want to offer my deepest condolences to the Turkish people following the terrible earthquake which struck southern Turkey overnight."
"Our hearts are with the injured and we wish them a speedy recovery. I have instructed the Foreign Ministry to put together a rapid aid package to help Turkey deal with this terrible tragedy."
The 7.8 magnitude earthquake killed at least 568 people in southern Turkey and northern Syria, with 284 deaths reported in Syria and 284 fatalities reported in Turkey. Hundreds more in both countries were injured.