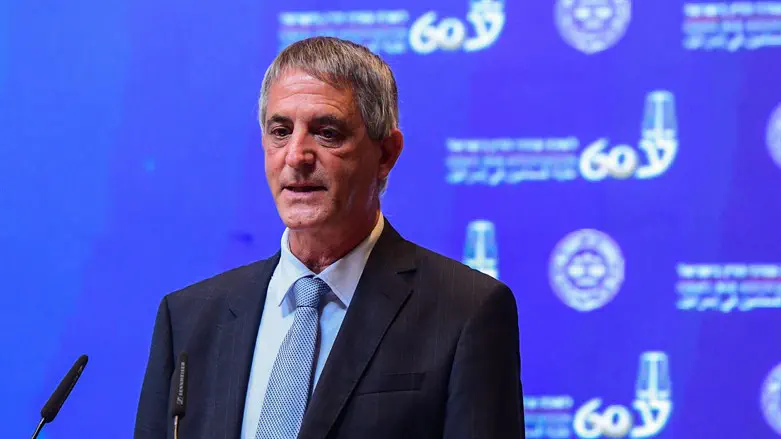 Avi Himi
Avshalom Sassoni/Flash90
Finance Minister Bezalel Smotrich on Tuesday evening responded to the accusations against Israel Bar Association head Avi Himi, who is reportedly preparing to resign in light of the allegations of sexual harassment against him.
"The unfortunate affair that was revealed yesterday proves how much the current system simply doesn't work. When judges are appointed in a dark room, in shady deals, then the corruption will also reach these places," Smotrich said at a conference of the Religious Zionism party.
"Judges greatly influence the future of the country and its values, they should be selected in a transparent, public process with a hearing, with a committee composition that does not contain shady dealings and special interests," Smotrich added.
On Monday, National Security Minister Itamar Ben-Gvir called on Himi to resign, following a report by Channel 13, according to which Himi sexually harassed a female lawyer by performing an indecent act during a video conference with her.
The lawyer had sought Himi's assistance in promoting her bid to be appointed as a judge.
Ben-Gvir said that the "shocking revelation this evening about the head of the Bar Association, Avi Himi, obligates him to immediately announce his resignation."
"Himi, who has taken on the role of preacher of national morality in recent weeks, needs to do a deep soul-searching by himself - and as a first step, as mentioned, to immediately announce his resignation from his position," the minister added.
Himi, who as head of the Israel Bar Association is one of nine members on the judicial selection committee, has been a staunch opponent of the Netanyahu government's judicial reform plan.
In a tweet responding to the Channel 13 report, Himi denied any wrongdoing, claiming the behavior he had engaged in during the video call was consensual. Himi accused the government of promoting the sexual harassment allegation in order to bolster its efforts to pass its judicial reform plan.
"This publication is part of the poison machine of those who work to promote the coup d'état. We are witnessing the dangerous manner in which desperate politicians work to trample anyone whose opinion differs from theirs. I take into account that they will try to hurt me on a personal level and this is a price I will pay with love. Slanders will not stop me. I will continue to act against the regime coup that wants to crush Israeli democracy," he said.
Labor party chairwoman Merav Michaeli rejected Himi's denial of wrongdoing, tweeting Tuesday that he should resign, noting that Himi did not "deny [doing] sexual acts with a woman whose professional fate was in his hands."
"Even if it is 'consensual' … this is sexual exploitation and abuse of his power and position. All the more so if there was no consent. He should resign and go home."