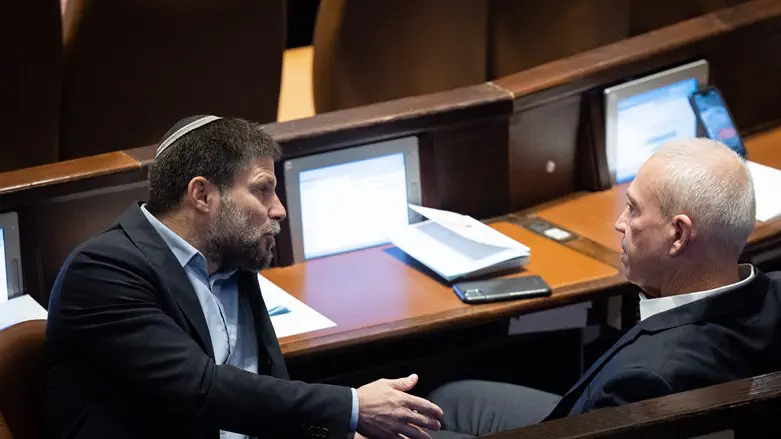 Gallant and Smotrich,
Yonatan Sindel/Flash90
Prime Minister Binyamin Netanyahu has decided that the powers over the management of civilian life in Judea and Samaria will be transferred to Minister Bezalel Smotrich despite the opposition of Defense Minister Yoav Gallant, Channel 12 News reported,
According to the report, the struggle for powers in the Defense Ministry reached a climax in a heated meeting in which Netanyahu, Gallant, Smotrich, Justice Minister Yariv Levin and other senior officials participated.
Gallant said during the debate: "I am the Minister of Defense, there are not two commanders in the army." Ministers Smotrich and Levin answered him: "These are signed coalition agreements." Gallant claimed in response: "You played for two months in front of an empty goal, they didn't ask me." Prime Minister Netanyahu intervened and said that there is logic in Smotrich's claim and the coalition agreement must be respected.
In the conversation, Smotrich presented the outline that was decided upon in the coalition agreements and suggested that the authority over civil matters be transferred to him.
Authority over military matters and matters of illegal construction by Jews and Palestinian Arabs would remain with COGAT. Since these are actions with security and policy implications, all decisions will be made subject to the Prime Minister's oversight.