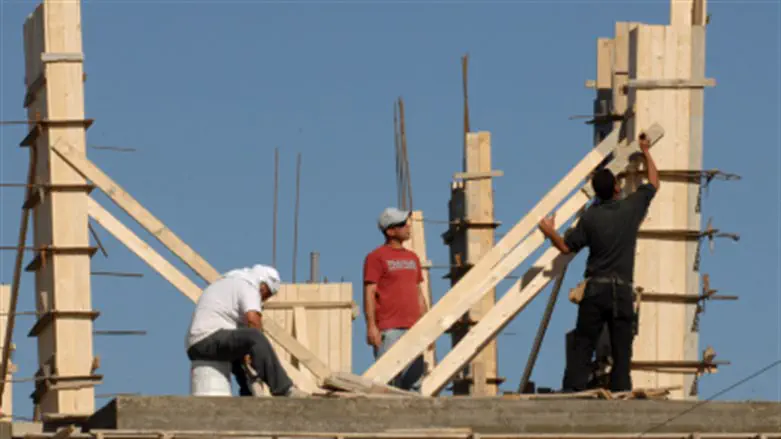 Construction in Judea and Samaria (file)
Flash 90
The decisive victory of the conservative-religious bloc in the recent Knesset elections may have roused hopes in the nationalist camp that the current government cannot live up to. Paradoxically, the room for manoeuver of the current government is less constrained domestically than in the international arena.
Domestically, the leftist establishment may kick and scream about having to give up its stranglehold on the judicial system and taxpayer-subsidized art and culture. Nevertheless, even though the Israeli Supreme Court can try to provoke an institutional crisis by striking down the government's proposals for judicial reform, as long as these reforms are reasonable and genuinely concerned about strengthening the accountability of all government branches, they will prevail in the end in the popular plebiscite/opinion that is the sole democratic way to settle an institutional crisis between different branches of government.
A government that ensures that the judicial branch more fairly represents and upholds the rights and duties of all sectors of Israeli society, will thereafter have little trouble making sure that Israel also promotes art and culture that celebrates Israel and Jewishness with more enthusiasm.
Although these achievements would be considerable according to most yardsticks, they are not enough to satisfy the hopes and expectations of a substantial share of the electorate pining for the incorporation of large swathes of Judea and Samaria into Israel proper.
The reasons the push for sovereignty in the 'West Bank' may falter are not many, yet each is in its own right is strong enough to deter action:
American liberal Jews
Firstly, the current government, like all Israeli governments, needs to canvas American support. The recent shelving of plans to expand the Jerusalem neighborhood of Nof Zion was a clear demonstration that even hawkish stalwarts Itamar Ben-Gvir and Bezalel Smotrich understand the restraints they face.
In the past, Israeli governments used their channels in the American Jewish community to help blandish the opposition of successive American administrations to Israeli government plans in Jerusalem, Judea and Samaria. Nevertheless, this government may have a harder time convincing Jewish American activists to support their goals.
For one thing, most non-Orthodox American Jews are openly hostile to this government coalition. Although part of the blame for this hostility is owed to the extreme leftist-liberal tilt of American Jewry, it certainly hasn't served Israel's interests for Bezalel Smotrich to have said in private that he is, due to religious constraints, against pro same-sex legislation, and for government stalwarts to call for opposition leaders to be arrested.
The second factor that hamstrings the current coalition is, ironically, the Abraham Accords. These peace agreements were widely celebrated as being an extraordinary feat of "peace-for-peace" rather than "peace-for-land" which was the premise of previous peace agreements with the Arab world.
Nevertheless, the former assessment is only partially correct. In fact these accords were secured after Israel desisted from annexing the Jordan Valley. It appears almost unavoidable that any future unilateral Israeli annexations would lead the signatories of these accords to withdraw their support from them. Accepting Israeli annexations in the 'West Bank' would amount to a slap in the face and humiliation for the rulers of Bahrain, the United Arab Emirates and (to a lesser degree) Morocco that would be held against Israel for decades.
The third factor is Iran and the vital importance for Israel of rallying the international community to scuttle the Ayatollah's nuclear ambitions. Unless the current protest movement in Iran topples the theocratic regime established by Ayatollah Khomeini it is most likely that Iran will get hold of nuclear weapons. The war in Ukraine, tensions between America, Russia and China together with the pusillanimity of Western European powers mean that diplomatic efforts to block Iranian ambitions will lack the requisite resolve to achieve their goal.
If Israel engages Iran militarily, it can only do so with American goodwill. And this goodwill will most likely be absent if Israel expands its borders eastwards.
Realistically, the current coalition can and should advance the construction of Jewish communities in Judea and Samaria. Nevertheless, even this construction faces its fair share of headwinds. More so than the usual choir of international condemnations and UN resolutions, is the very real risk that if construction accelerates too quickly, the Palestinian Authority will drop its calls for a two-state solution and start advocating for a one-state solution in which Arabs in the 'West Bank' and Gaza are granted voting rights in Israeli elections.
Although the death of the two-state solution will be celebrated by many on the Israeli right, it is hard to predict how Israel would be able to thwart calls for Arabs to be granted voting rights in a Judea and Samaria run by the Jewish state. Granting these Arabs voting rights in Jordan and the Biblical status of resident aliens in the 'West Bank', would only be viable with the consensus of Arab Palestinians, which in my view will not be easy to secure. And imposing this solution unilaterally would strengthen international non-Jewish and Jewish condemnation of Israel and give the impression that millions of non-Jews in Israel are granted what critics would label a Jewish equivalent to dhimmitude status.
In other words, Israel's current government has far more space to erode leftist hegemony inside Israel rather than in asserting Jewish sovereignty expansively in Judea and Samaria.
Instead, we read this morning that the Israeli government is moving forward with plans which if implemented could lead to a massive increase in the Jewish population in Judea and Samaria once Smotrich's authority in the civilian aspects of life in those areas is clear. This may make sovereignty a moot point until that population increase is a fact.
Rafael Castro is a Yale- and Hebrew University-educated analyst who lives in Berlin with his German wife Friederike and is the father of three kids. He is a Noahide. Rafael can be reached at [email protected]