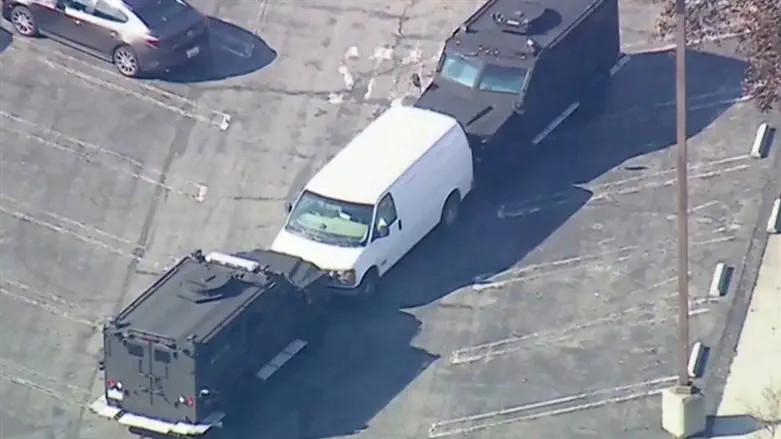 Police surround white cargo van in Torrance
ABC Affiliate KABC via REUTERS
The death toll in the mass shooting at a dance studio in Monterey Park, California, rose to 11 on Monday, CNN reported.
Authorities initially said 10 people were killed in the shooting at the Star Ballroom Dance Studio and that at least 10 were hospitalized. LAC+USC Medical Center, which treated four of the 10 wounded, said on Monday that one had died.
Meanwhile, investigators searched the gunman's background as they continue to probe the massacre.
The mayor of Monterey Park said the gunman behind shooting may have been targeting his ex-wife on the Lunar New Year.
Huu Can Tran, the 72-year-old suspected shooter, apparently thought his former wife was at the Star Ballroom Dance Studio when he burst inside and opened fire on a festive crowd, police said.
"My understanding is that he may have come because his ex-wife was reveling, celebrating the Lunar New Year, and it sounded like there was a history of domestic violence, which is unfortunate," Monterey Park Mayor Henry Lo told NBC News.
Police on Monday continued searching the suspect's home in Hemet, a small city about 85 miles east of Los Angeles, and did not divulge a motive.
Alan Reyes, the public information officer for the Hemet Police Department, said their records show that Tran contacted them a decade ago and alleged his family was trying to poison him. The allegation was never investigated because Tran never presented any proof to back up his claims, he said.
Tran died some 12 hours after the massacre of a self-inflicted gunshot wound inside a white van as a SWAT team closed in on him, Los Angeles County Sheriff Robert Luna said Sunday.