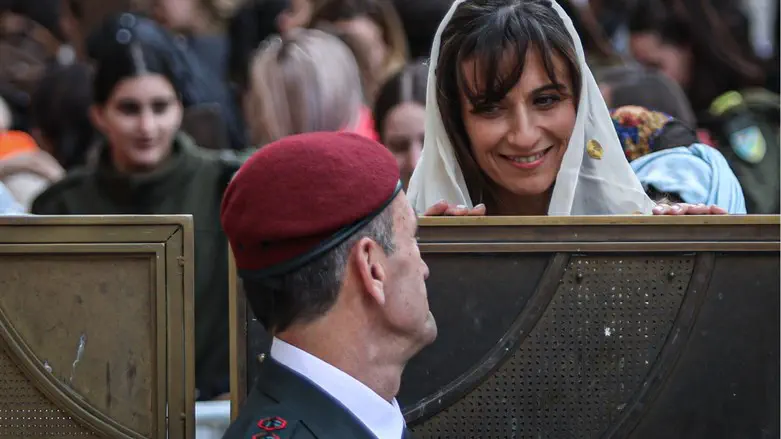 Herzi and Sharon Halevi
Haim Goldberg/Kikar Hashabbat
Haredi photojournalist Haim Goldberg was surprised by the number of responses he received to the photo he took yesterday of Incoming IDF Chief of General Staff, Lt-Gen Herzi Halevi, and his wife Sharon at the Western Wall yesterday.
"The truth is that I didn't really expect such a number of reactions to the photo of Chief of Staff Herzi Halevi and his wife that I took yesterday at the Western Wall," Goldberg, who works for the Kikar Hashabbat news website, wrote on his Twitter account. "It surprised me, and of course thank you to everyone."
The photograph unexpectedly became the picture of the day, becoming widely shared on social media, where internet users found the image heartwarming.
"The image that the chiefs of staff try to achieve throughout their term, Herzi manages to achieve on his first day," wrote former IDF Spokesperson Ronen Manelis. "Now the rest of the tasks remain. Good luck. Commander, we are all behind you."
Fellow former IDF Spokesperson Avi Benayahu added: "This is exactly what they mean when they say 'a picture is worth a thousand words'. Lieutenant Geneal Herzi Halevi and his wife Sharon at the Western Wall plaza."
Former MK Haim Yellin wrote: "This is an amazing picture. And I am moved by how the mechitza [partition] that separates women and men cannot separate their smiles and love."
Journalist Avishai Greenzeig responded to Goldberg: "You are a very talented photographer." Ofer Hadad added: "One of the best press photographers."
Rabbi Yuval Ohali wrote at length about several insights that occurred to him after looking at the photograph. "This is a picture with a mehitza in the center," he wrote. "She does not seek to take it down, to lower it or to raise it, but to give it a place of honor. This is an image that respects the place where it is taken and the role that laws, fences and safeguards have."
He added: "It's a picture that puts naturalness at the center. It reminds us that we don't have to shout or fight and that we can simply get on a chair to feel at ease. There are some who will be disturbed by it and there are some who find it the most natural thing in the world - not to break down the walls but to build bridges over them."
"This is an image that puts the family at the center. It reminds us that between spouses, siblings or parents and children there can be arguments, divisions or differences of opinions, but at the end there is also a smile, one after which it is simply impossible not to love, and this reminder at this moment is very important. This is a picture which respects and loves the IDF. It shows us the paratrooper standing in the same plaza where the paratroopers stood a few decades ago, in the same plaza where he swore his allegiance, in the same plaza where he stands today as the commander-in-chief of the IDF. There is no grandmother who will not cry at seeing it," Rabbi Ohali said.
"This is a picture that respects us viewers," he noted. "It doesn't speak to the extreme people on one side who see it as oppression or exclusion, nor to the extreme people from the other side who want to see it as breaching a fence and disrespectful. This picture speaks to us, to the majority of the Jewish public who are moved, enthusiastic and love this picture."