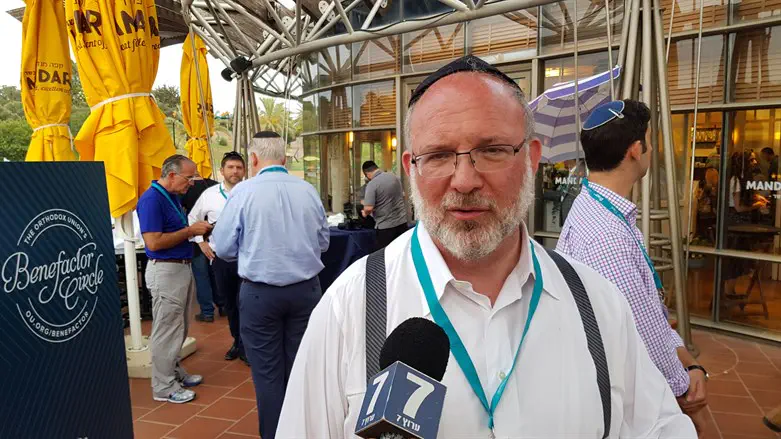 Moishe Bane, former President of the Orthodox Union
Arutz Sheva
The Orthodox Union (OU), the largest Orthodox umbrella organization in the United States, has chosen a new president.
Mitchel Aeder will take over the helm at the OU as its 18th president, replacing Moishe Bane, who served as OU president for the past six years.
At the OU's biennial convention on January 1 in Woodmere, N.Y., convention delegates elected Aeder unanimously to a two-year term as OU president.
Aeder, a retired corporate tax partner at PricewaterhouseCoopers, has served on the OU's board since 2000. He has been the chairman of Yachad, the OU department that provides services to individuals with special needs, and the Youth Commission that governs NCSY, the OU's youth movement that provides 30,000 Jewish teenagers with programming to help them develop a positive Jewish identity. Recently, Aeder served as Chairman of the Board of Directors of the OU.
"It is a great honor to work with the OU's extraordinary professionals and engaged lay leaders. I am humbled by the opportunity to partner with them in leading this great institution," Aeder said. "I thank my mentor and friend, Moishe Bane, for his visionary leadership and look forward to his continued involvement in the OU."
The New York City-based organization noted that Bane, elected to three terms as head of the international organization, achieved far-reaching and historic accomplishments that achieved transformational change. During the pandemic, he oversaw the OU's continued growth, facilitating the purchase of the OU's new headquarters in downtown New York City. Under his careful direction, the OU revamped its professional leadership structure; expanded its offerings; added board members; and created three new departments: Torah Initiatives, Women's Initiative and Impact Accelerator.
"It has been a distinct privilege to serve as president of the OU, an organization that has been a backbone of the Orthodox Jewish community for 125 years, providing critical support and services to our community," Bane said. "I depart knowing the Orthodox Union is in good hands under Mitch, who has contributed so much in the two decades he already has dedicated himself to the organization."
Aeder told Yated that as president he will continue OU's non-political "quiet diplomacy" approach so solving problems.
"Our approach is quiet diplomacy. Whenever possible, we try to talk to people, both with whom we agree and with those whom we disagree. We think that a quiet tone very often people listen to more than a loud tone," he said.