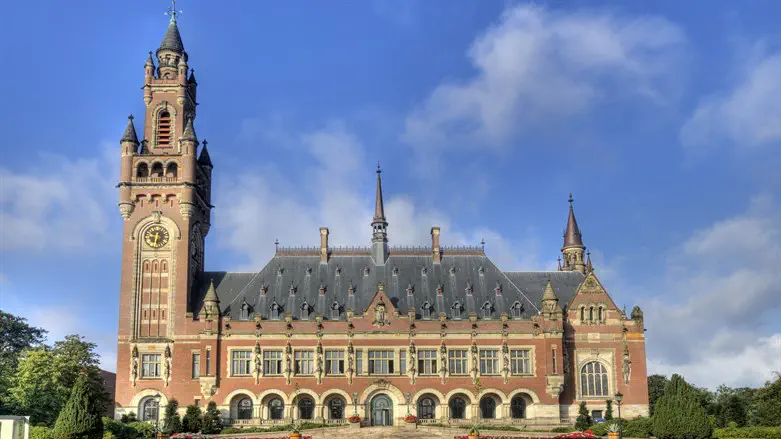 International Court of Justice
iStock
More than 90 countries on Monday expressed "deep concern" at Israel's punitive measures against the Palestinian Arab people, leadership and civil society following a UN request for an advisory opinion by the International Court of Justice on the legality of Israeli policies in Judea and Samaria and eastern Jerusalem, The Associated Press reports.
A statement released by the Palestinian Authority (PA) said the signatories called for a reversal of the Israeli measures, saying regardless of their position on the General Assembly's resolution, "we reject punitive measures in response to a request for an advisory opinion by the International Court of Justice."
The 193-member General Assembly voted 87-26 with 53 abstentions on December 30 in favor of the resolution, which was promoted by the PA.
In response, Israel announced a package of sanctions targeting the PA. The sanctions include a freeze on all Palestinian Arab construction in Area C of Judea and Samaria - including a crackdown on illegal construction - and the seizing of 139 million shekels of tax funds collected by Israel from PA workers on behalf of the PA. The money will be transferred to a fund for Israeli victims of Palestinian Arab terrorists.
Israel also said it would deny benefits to "VIPs who are leading the political and legal war against Israel." The PA's "foreign minister", Riad al-Malki, said last week that he was affected by this move and that Israel had rescinded his VIP travel permit.
Monday's statement was signed by representatives of Arab nations and the 57-member Organization of Islamic Cooperation and 37 other countries — 27 of them from Europe including Germany, France and Italy as well as Japan, South Korea, Brazil, Mexico and South Africa, according to AP.
The PA's UN envoy, Riyad Mansour welcomed the statement of support, telling AP that "we exercised our democratic rights to go to the General Assembly in a peaceful way, a legal way, and put a question to the ICJ to seek an advisory opinion."