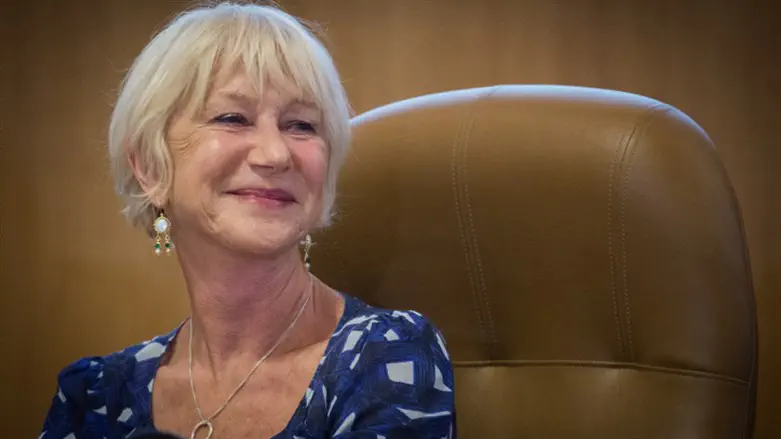 Helen Mirren
Hadas Parush/Flash 90
A long-awaited biopic starring British actor Helen Mirren as Israel's only female Prime Minister, Golda Meir, will have its world premiere at the Berlin film festival next month, organizers said Friday, according to the AFP news agency.
The festival said "Golda", set during the 1973 Yom Kippur War, would screen in its Berlinale Special sidebar section, out of competition.
The 11-day event, Europe's first major cinema showcase of the year, kicks off on February 16.
The casting of Mirren, who is not Jewish, to play one of Israeli history's most iconic figures in "Golda" sparked keen interest but also controversy when it was announced.
British actress Maureen Lipman told the Jewish Chronicle last year that the role should have been given to a Jewish actress.
"The Jewishness of the character is so integral," Lipman said. "I'm sure she will be marvelous, but it would never be allowed for Ben Kingsley to play Nelson Mandela. You just couldn't even go there."
Mirren later responded to the criticism, telling The Daily Mail that she had spoken to director Guy Nattiv about her uncertainty over the role.
"I said, 'Look Guy, I'm not Jewish, and if you want to think about that, and decide to go in a different direction, no hard feelings. I will absolutely understand,'" she said, adding, "But he very much wanted me to play the role, and off we went."
Mirren said she wasn't upset about Lipman's statements that the role should have gone to a Jewish actress.
"I do believe it is a discussion that has to be had – it's utterly legitimate," she added.