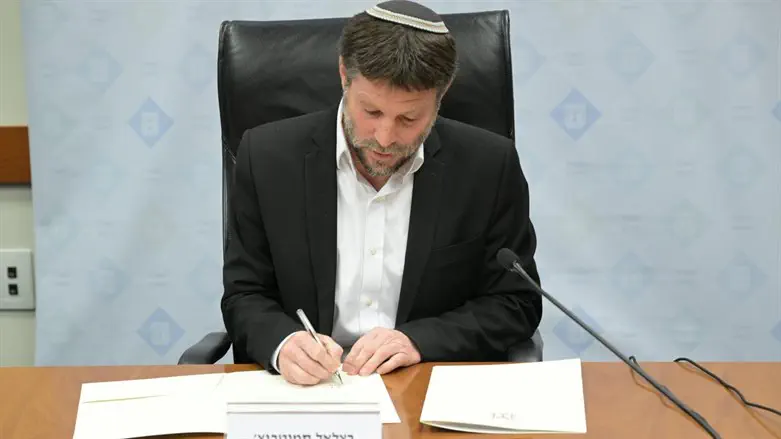 Smotrich signs order
Shlomi Amsalem, GPO
The Execution Office in Jerusalem transferred NIS 139 million to the representatives families of terror victims following the decision of Finance Minister Bezalel Smotrich to seize tax funds esignated for the Palestinian Authority.
According to the report of Globes reporter Avishai Greenzeig, the money will be transferred to the families of those murdered in the Ramallah lynching, the families of those murdered in the attack on the school bus in Kfar Darom, the families of those murdered in the suicide bombing on Ben Yehuda Street in Jerusalem, the families of the suicide bombing on French Hill, the families of those murdered in the car bomb attack at the Megiddo Junction, the families of those murdered in the infiltration attack in Elon Moreh, and more.
Last Thursday, Finance Minister Bezalel Smotrich announced the offset of funding transferred to the Palestinian Authority and its reappropriation to families of terror victims.
"We promised to amend, and today we are amending. There is no bigger justice than offsetting. This is not condolence, but this is justice," stated Smotrich.
To Israel National News' question on whether the minister consulted with legal bodies before making the decision, Smotrich answered: "Over eight months ago, the court ordered the previous government to offset the funding to pay the victims' reparations. The previous government scoffed at the ruling and refused to fulfill it. We are upholding it, and that's the natural and desirable thing to do."
Concerning the worry that the move may weaken the Palestinian Authority and strengthen Hamas, the minister stated: "The Palestinian Authority has to decide if it wants to exist and stop promoting terrorism or to stop existing. There's no way that, on the one hand, the PA is a partner, and on the other, it promotes the murder of Israeli citizens."