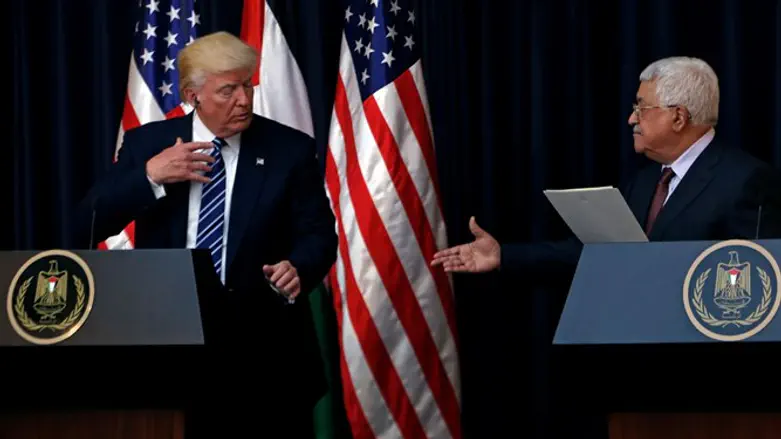 Donald Trump at join presser with Mahmoud Abbas in Bethlehem
REUTERS
The Palestinian Authority now spends half of all the money it receives in foreign aid to encourage and enable terror attacks against Israeli Jews, the Institute for Contemporary Affairs reported.
According to the study, the PA currently receives $692 million annually in direct foreign aid, most of which comes from the United States and the European Union.
Of that relatively generous foreign aid budget, the PA spends a whopping $344 million per year, or 49.6% of all foreign aid, on terrorism and stipends for terrorists and their families.
This year's total PA budget, including both foreign aid and tax revenues, dedicates 4% of all spending to "the struggle against Zion", and 13% to stipends for the families of terrorists killed during attacks on Israelis and jailed terrorists.
Jailed terrorists can now receive over $3,000 a month from the PA after they commit terror attacks, with the 19-year old terrorist who murdered three Israelis in cold blood promised a life-time salary of $3,120 a month, more than 10 times the average income in the Palestinian Authority.
Over the past four years, the PA has paid more than $1 billion to terrorists and the families of terrorists, the Knesset Foreign Affairs Committee reported in May.
"This commitment manifests the Palestinian view promulgated by Palestinian law that refers to the terrorists as the 'fighting sector' of the Palestinian society," the Institute for Contemporary Affairs noted in the report.
"This ongoing pattern stands in sharp contrast to the Palestinian commitments in the Oslo Accords and to international law and conventions. It also reflects the fact that until now, no real pressure has been put on the Palestinians to stop the payments."