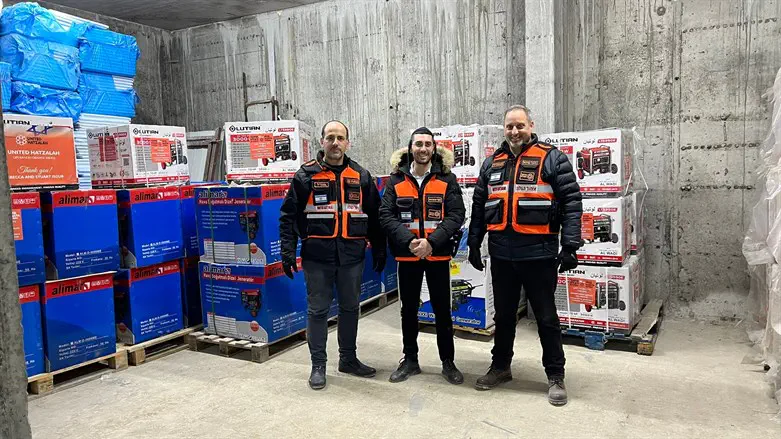 United Hatzalah CEO Eli Pollak, Head of Ukraine Operations Naftali Rabinovich, a
United Hatzalah
As Ukraine is being wracked with sub-zero temperatures, snow, and with the persistent shortage of electricity caused by the continuation of the war, numerous establishments such as schools, orphanages, and medical clinics have requested assistance in coping with the extremely low temperatures and the lack of ability to prepare food.
On Tuesday, a team of United Hatzalah volunteers led by CEO Eli Pollak and Vice President of Operations Dov Maisel landed in the country in order to distribute a first set of approximately 100 powerful electric generators to institutions in cities such as Kyiv, Uman, Lviv, and Odesa. The distribution, which is expected to continue until Thursday, is expected to be the first of several arranged by the organization as part of a broader campaign to provide hundreds of such powerful electric generators in the weeks to come.
Since the outbreak of the war in Ukraine back in February 2022, United Hatzalah has been orchestrating relief efforts on several fronts throughout the country. As part of "Operation Orange Wings", the organization arranged flights transporting doctors, EMTs, and members of the organization's Psychotrauma and Crisis Response Unit to the war-torn country and more than 145 tons of food, medicine, and humanitarian aid to refugees, hospitals and Jewish communities. On the return trips, these flights have airlifted people out of the war zone, bringing more than 3,000 displaced persons to new homes in Israel.
"It's important to understand the impact one generator can have in an institution housing hundreds of children," said Dov Maisel, United Hatzalah's Vice President of Operations. "Most of these buildings have gas heaters that push hot water through the building. One generator will provide enough energy to not only activate the heaters and pumps that will allow hot water to circulate throughout the entire building, but also provide for the rest of the electrical needs of the building. Thus hundreds of children in each location will now have proper heat, light, and electricity for other purposes."
"One of our first stops yesterday was in an orphanage where 100 Jewish children reside," recounted United Hatzalah CEO Eli Pollak. "We entered one of the rooms in the main building holding one of the generators and the children simply jumped on us and hugged us. A cute 7-year-old child named Sasha came to me, gave me a hug, and said in Hebrew: 'Thank you for coming to save us.' I will never forget this moment. This is only the beginning of a bigger campaign that will provide hundreds of generators throughout Ukraine and will help people from all backgrounds, Jewish and non-Jewish alike."