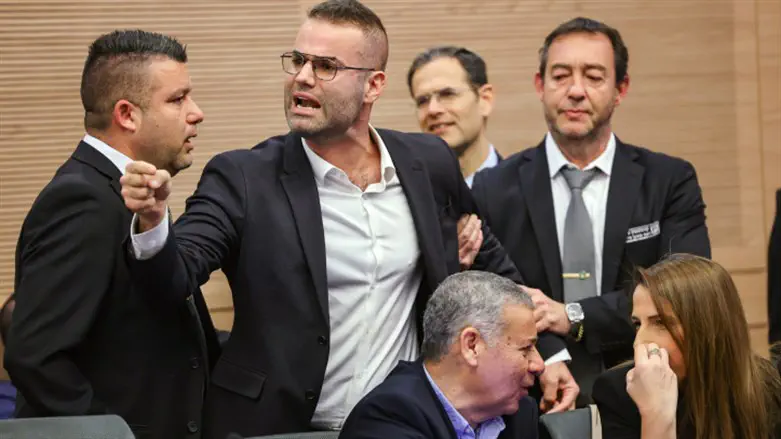 MK Yorai Lahav-Hertzano ejected from hearing on January 11th, 2023
Yonatan Sindel/Flash90
A number of left-wing Knesset Members were ejected from a Knesset committee hearing Wednesday morning, after coalition MKs formally introduced a sweeping judicial reform plan.
Last Wednesday, Justice Minister Yariv Levin (Likud) unveiled his four-step judicial reform plan, vowing to increase the role of the Knesset and government in appointing judges; enable the Knesset to override Supreme Court rulings overturning laws; barring the Supreme Court's use of the "reasonableness standard" to overturn Knesset laws or government decisions; and empower ministers to appoint independent legal advisors, separate from those selected by the Justice Ministry.
The proposed changes drew sharp criticism from the Opposition, which accused the Netanyahu government of plotting to overthrow Israeli democracy, and linked the reforms to the ongoing corruption trial of Prime Minister Benjamin Netanyahu.
At today's hearing, MK Simcha Rothman (Religious Zionist Party), chairman of the Constitution, Law, and Justice Committee, opened deliberations on the reform package. The committee is set to begin with talks on the bill allowing ministers to appoint independent legal advisors.
After the hearing was opened, Opposition lawmakers harangued MK Rothman, with the hearing devolving into a shouting match.
"Did you prepare arrest warrants for the Knesset Members." Several Yesh Atid MKs asked. "Do you have handcuffs ready?"
Rothman replied sarcastically: "We're preparing a small jail cell here. But the arrest of MKs won't happen here – that will be in the House Committee."
As the hearing continued, left-wing MKs repeatedly interrupted chairman Rothman, shouting at him and disrupting the meeting.
Knesset ushers were called in to remove the disruptive MKs, and the microphones of Opposition lawmakers were deactivated.
"I'll put them back on when there is no shouting," said Rothman.
MK Vladimir Beliak (Yesh Atid), one of the lawmakers ejected from the hearing, said the Opposition would continue to fight the judicial reforms tooth and nail.
"MK Simcha Rothman and the other members of this anti-Israeli coalition can turn off our microphones in the committees, but they won't be able to silence us, either inside or outside of the Knesset. It is that simple."