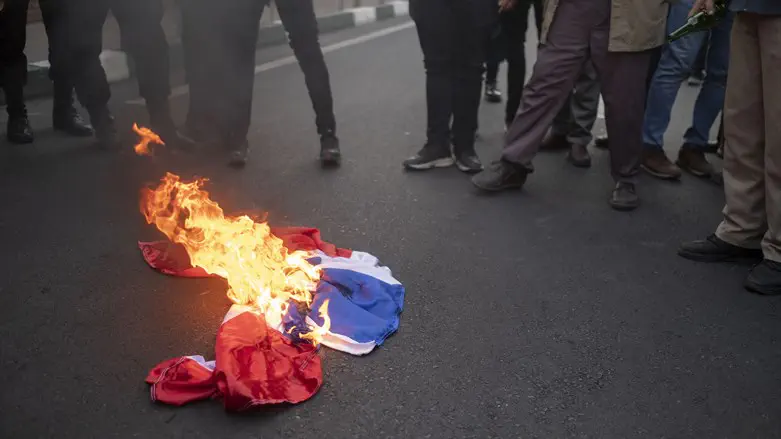 Iranian protesters burn French flag during protest outside embassy in Tehran
Morteza Nikoubazl via Reuters Connect
Dozens of Iranians gathered on Sunday outside the French embassy in Tehran to protest against cartoons of the Islamic Republic's Supreme Leader published by French satirical weekly Charlie Hebdo last week, AFP reports.
The magazine on Wednesday published caricatures of Ayatollah Ali Khamenei in support of the months-long protests in Iran, sparked by the death in custody of Mahsa Amini, following her arrest for allegedly violating the country's strict dress code.
Iran blasted France over the "insulting and indecent" cartoons, which appeared in a special edition to mark the anniversary of the deadly 2015 attack on the magazine's Paris offices.
Iran on Thursday shut down the Tehran-based French research institute in an act of protest against the cartoons.
On Sunday, dozens of protesters, most of them religious seminary students, gathered in front of the embassy in the center of the capital Tehran and set fire to French flags, AFP reported.
"France, be ashamed!", the crowd chanted.
Waving Iranian flags, they held pictures of Khamenei and signs reading "I will sacrifice my life for the leader", and "Shame on Charlie Hebdo".
Similar protests were held in Iran's holy city of Qom, located 128 kilometers south of Tehran, the state broadcaster reported.