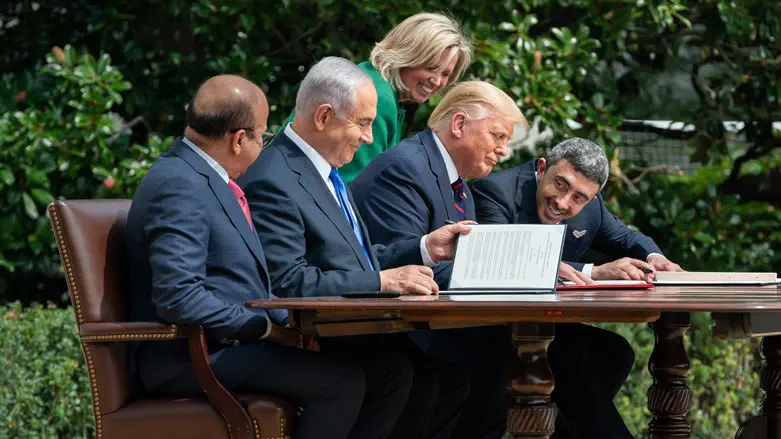 Abraham Accords Signing Ceremony
Official White House Photo Andrea Hanks
Prime Minister Benjamin Netanyahu will travel to the United Arab Emirates later this month, in what will be the first foreign trip of his latest tenure, i24NEWS reported on Sunday.
UAE President Sheikh Mohamed bin Zayed Al Nahyan on Saturday congratulated Netanyahu on his taking office as the Prime Minister for the sixth time.
During Netanyahu's previous term in office, he participated in the September 2020 White House signing ceremony of the US-brokered Abraham Accords that normalized relations between Israel and the UAE and Bahrain. Morocco and Sudan later joined the pact.
Since the agreement, relations between the governments of Israel and the UAE have flourished, including a free trade agreement signed earlier this year.
In September, UAE Foreign Minister, Sheikh Abdullah bin Zayed Al Nahyan, visited Israel and met with then-Prime Minister Yair Lapid.
Netanyahu did not visit the UAE during previous term. His immediate successor, Naftali Bennett, made the first official visit to the UAE by an Israeli Prime Minister in December of 2021.