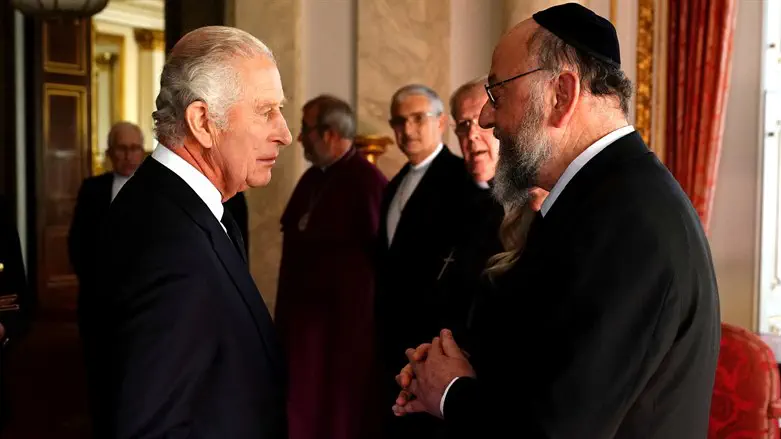 Rabbi Ephraim Mirvis and King Charles III
Reuters
United Kingdom Chief Rabbi Ephraim Mirvis is to be knighted by King Charles as Knight Commander of the Order of the British Empire,in a ceremony which the British newspaper the Jewish Chronicle called "historic moment for Anglo Jewry."
Rabbi Mirvis was among British citizens included in the 2023 New Year's Honors List which was published on Friday evening.
This Knighthood is one of the highest honors which can be bestowed on an individual in the UK, and was given to Rabbi Mirvis in recognition of his "significant services to the Jewish community, to interfaith relations and to education."
Rabbi Mirvis said after he received word of the honor he would receive: "I am enormously honoured and deeply humbled by this award. It will be particularly moving for me to receive this award from His Majesty The King, in his first year as our monarch."
The Jewish Chronicle reported that Vice President of The Council of Christians and Jews Maurice Ostro said in response to the granting of the Knighthood to Rabbi Mirvis: "This honor is not awarded to faith leaders simply because of their positions, and it is a testament to how he has gone above and beyond his role as Chief Rabbi and his recognition as a leader by both faith and non-faith communities."
"The knighting of the Chief Rabbi will not only be celebrated in the Jewish and Muslim communities across the UK but by communities of all faith and none. It also underlines how the establishment has started to recognize the importance of interfaith engagement as well as the vital contributions of our faith communities and the important role they play in making our country a truly great Britain," Ostro said.
Rabbi Mirvis' predecessor as Chief Rabbi, the late Rabbi Jonathan Sacks, had also been knighted by Queen Elizabeth II in 2005.