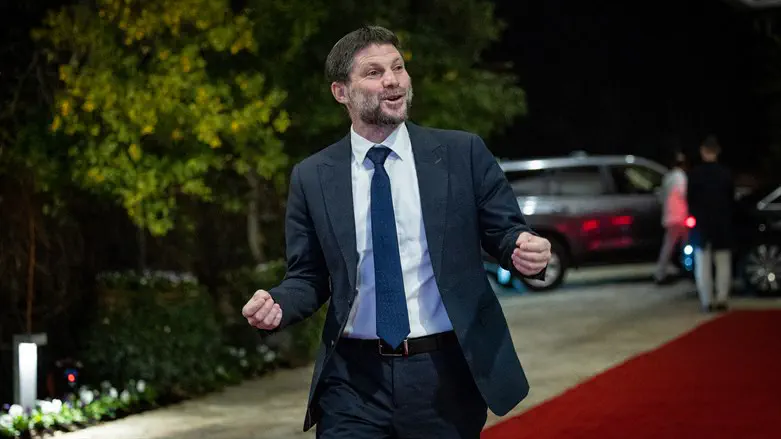 Bezalel Smotrich
Yonatan Sindel/Flash90
Finance Minister Bezalel Smotrich had begun to formulate his plan to deal with the rising the cost of living, which will reportedly include lowering taxes and freezing electricity price increases.
Channel 12 News correspondent Keren Marciano reported that the plan, which is under discussion with the professionals at the Finance Ministry, will include different aspects for the different economic levels in Israel. For example, citizens at the lowest economic strata will receive food stamps, and citizens who earn the minimum wage or a low wage will receive a supplement to their salary through an increased negative income tax.
As part of the plan, working families will receive either half a credit point or a salary credit point. Today, a credit point is an addition of NIS 220 to the family's net salary. The emerging plan is based on the coalition agreements and will come into effect already in the next budget, which is expected to be passed in the next month and a half. The approval of the budget is also expected to result in the salaries of IDF soldiers being increased by 20%.
Another source of relief for families that is being considered is within the framework of payment for educational institutions for toddlers. After Finance Minister Smotrich realized that he would not be able to apply the free education law to those aged 0-3, as he promised in the election campaign, he began considering subsidizing the after-school programs or finding another solution that will bring down the prices of pre-schools.
A series of price increases will come into effect on Sunday, including an expected increase in electricity prices by eight percent. The Finance Ministry is seeking to freeze electricity prices for two or three months at the beginning of the year with the aim of finding a long-term solution for the rest of the coming year during the discussions regarding the budget.