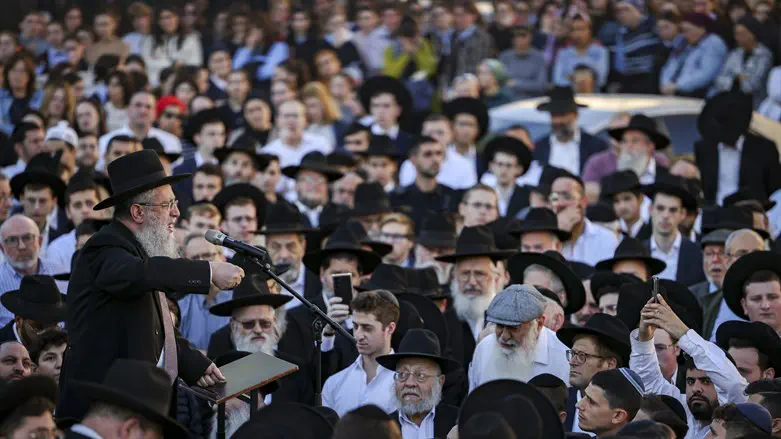 Rabbi David Yosef eulogizes Aryeh Schupak
Yonatan Sindel/Flash90
Hundreds of people attended the Wednesday afternoon funeral of 15-year-old Aryeh Schupak, a resident of Jerusalem's Har Nof neighborhood who was killed in a bombing at the entrance to Jerusalem on Wednesday morning.
Schupak studied in the Beit Meir yeshiva, and held Canadian citizenship. He was killed next to his good friend, who he traveled to yeshiva with each morning and who suffered injuries in the bombing.
Schupak's father said, "I just want to tell my son, Aryeh, goodbye. I apologize to you. G-d gave, and G-d took. He was a child who taught us a lesson."
The principal of the school where Schupak studied said, "Aryeh is still here with us." He added that on Tuesday, a staff member had noticed that Aryeh was not feeling well, and told him not to come to yeshiva the next day. But Aryeh insisted on coming to pray in the yeshiva and learn.
"He fought hard, with all his strength, he did not have an easy life," the principal added. "He held on to his tefillin and his studies, and he managed to get himself onto a good path. He was intended for greatness."
"There is not a single person in the entire class who can say that he ever saw anger in this child - with Aryeh, he did not know what anger was. He would walk in the street and help everyone he could, he was beloved by all."
Rabbi David Yosef mourned, "How awful it is to accompany a young boy, who was bar mitzvah not long ago, a mere child, who finished elementary school just a year ago, together with my grandson. He was raised in a very special family, good parents, righteous, with good characters, an amazing family. He came to yeshiva, was there one year, and now we are accompanying him to his eternal resting place. Oy, it is so much pain."
"When we have people who fight against the Torah, G-d punishes us. Those who are fighting us are not a 'nation' - there never was such a thing as a Palestinian nation. They are a nation of murder. They see murder as holy. Our job is to strengthen our faith in the Creator of the World. Our war against them will be by means of Torah, that we sit and serve G-d."
Shlomo Benjamin, Schupak's friend and a counselor in the yeshiva he studied in, told Kan Reshet Bet that Schupak was "the most special of the group, and liked by all."
According to him, there was a third yeshiva student who crossed the street at the time of the explosion, after he heard Schupak's friend call for help.
"He did not say anything about Aryeh, we thought he just wasn't there," Benjamin said.
"Only after the prayers were we informed that Aryeh had been there," Benjamin told Esti Perez Ben-Ami. "We knew about his friend Elchanan, who was injured, that he was there. After the prayers, Aryeh's mother told us that he had entered the operating room, and we started praying for his recovery. And then we found out. Aryeh was beloved by all. He had humor and was full of joy. He fought like a lion to succeed in his studies. He was taken from us. We are trying to digest this together."
Aryeh Schupak Credit: Arutz Sheva
הרב דוד יוסף מספיד את אריה
צילום: Yonatan Sindel/Flash90
אריה שצ'ופק מובא למנוחות:
צילום: יוני קמפינסקי
אריה שצ'ופק מובא למנוחות
צילום: Yonatan Sindel/Flash90
Schupak's funeral left the Boston Synagogue in Har Nof at 3:00p.m. His friend Elchanan Biton, who is the same age as he is, was severely injured in the bombing. The two were on their way to yeshiva when the explosion occurred.
Among the others injured in the bombings are a man in his 40s who is critically injured, three people who are in serious condition, and two who are in moderate condition. All of the injured suffered penetrative injuries, some of them from metal screws or other shrapnel.
credit: TPS
credit: TPS
credit: TPS
credit: TPS
credit: TPS
credit: TPS
credit: TPS
credit: TPS
credit: TPS
credit: TPS
credit: TPS
credit: TPS
credit: TPS
credit: TPS
credit: TPS
חבלני המשטרה
credit: דוברות המשטרה
credit: TPS
credit: TPS
credit: TPS
credit: TPS
credit: TPS
credit: TPS
credit: TPS
credit: TPS
credit: TPS
credit: TPS
credit: TPS