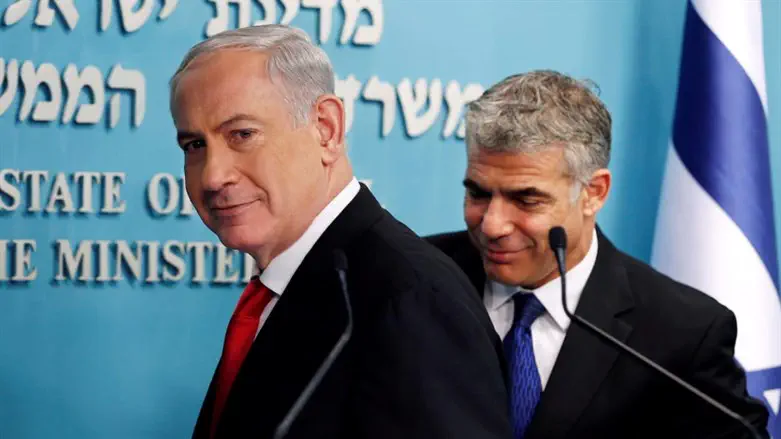 Netanyahu and Lapid
REUTERS/Ronen Zvulun
The elections for the 25th Knesset will likely result in yet another stalemate, a new poll shows, with neither the pro-Netanyahu bloc nor the left-wing – Arab bloc projected to win an outright majority in the 120-member legislature.
According to the poll, which was conducted by Midgam and published Sunday evening by Channel 13, found that if elections were held today, the four right-wing parties in the Opposition – the Likud, Shas, United Torah Judaism, and Religious Zionist Party – would win a total of 59 seats, the same number the bloc received in the previous Midgam poll, released last Monday.
The left-wing – Arab bloc held steady at 55 seats, with the remaining six seats going to center-right parties aligned with the current coalition government.
The Likud remains the largest faction with 34 seats, the same number it received in last week's poll, while Yesh Atid fell by one mandate, from 23 seats to 22.
The new joint ticket of the center-left Blue and White and center-right New Hope faction fell from 13 seats last week to 12 seats, while Yisrael Beytenu held steady at six seats.
Among the haredi factions, Shas received eight seats, while United Torah Judaism is projected to receive seven.
The Religious Zionist Party alliance with Otzma Yehudit and Noam would win ten seats if new elections were held today, while Yamina remains below the 3.25% electoral threshold with 2.9%.
The Joint Arab List and United Arab List (Ra'am) received the same number of seats as they did in last week's poll, six and four mandates respectively.
The far-left Meretz faction, which polled at four seats last week, will hold steady at four seats if Deputy Economic Minister Yair Golan becomes party chairman. Meretz is projected to rise, however, to five seats if former chairwoman Zahava Galon returns as party chief.
If Golan becomes party chief, Labor is projected to win seven seats. That number falls to six if Galon runs at the helm of Meretz.
The poll also queried respondents how they would vote if Otzma Yehudit chairman MK Itamar Ben-Gvir were to lead the Religious Zionist Party.
In this scenario, the party would win 13 seats, two of them at the expense of the Likud, one of them at the expense of the New Hope – Blue and White alliance, thus increasing the right-wing bloc's number of seats by one, to 60.
Benjamin Netanyahu remains the most popular candidate for the premiership with 45%, though that is down six points since last month, while Yair Lapid has risen two points, to 32%.