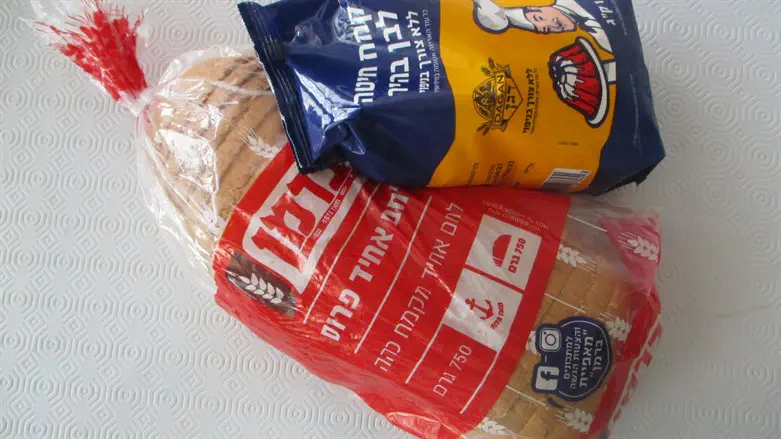 Price-controlled bag of bread and a bag of flour
Chana Roberts
Israeli Prime Minister Yair Lapid held talks Sunday aimed at preventing a planned increase in the price of bread, days after industry leaders agreed to delay a scheduled price hike by two weeks.
Last Friday, the major supermarket chains in Israel vowed to push off a planned 20% increase in the price of bread for bread products included in the government's price controls.
The rise, prompted by a surge in the global price of wheat, is fueled by a combination of ongoing inflation and supply disruptions from Ukraine, a major wheat producer.
Lapid spoke with Economy and Industry Minister Orna Barbivay Sunday afternoon at the Prime Minister's Office, with Lapid calling for completely halting the increase in the price of bread.
Several economic and legislative proposals were raised, including how it would be possible to reach agreement.
Lapid also instructed the Finance Ministry Budget Director to come back in three days for an additional discussion, with a proposal on the optimal working plan for halting the increase in the price of a basic loaf of bread.
Participating in the discussion were Agriculture and Rural Development Minister Oded Forer, Welfare and Social Affairs Minister Meir Cohen, Justice Minister Gideon Saar, chief of the Prime Minister's staff Dani Vesely, Prime Minister's Office Director General Naama Schultz, Economy and Industry Ministry Director General Ron Malka, Finance Ministry Accountant General Yali Rothenberg, Finance Ministry Budget Director Yogev Gradus, Prime Minister's Office Deputy Director General for Economics and Infrastructure Amir Barkan and other professional officials.