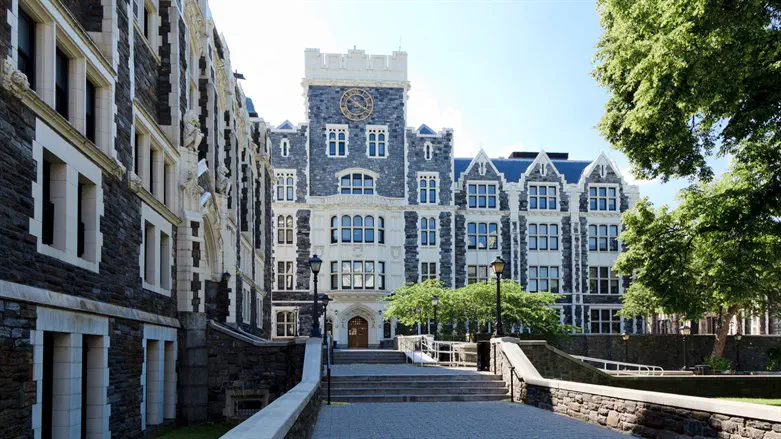 City University of New York (CUNY)
ISTOCK
A letter signed by students and staff at City University of New York (CUNY) was denounced by Jewish leader for pledging to create programs to "unlearn Zionism."
The open letter, titled "Not In Our Name," called for "resistance by any means necessary" for Palestinian Arabs, alleged that Israel was engaged in "ethnic cleanings" and "funds Nazi militia groups" and castigated and rejected the IHRA definition, which has been widely adopted by governments at all levels internationally, as "a ploy to demonize anti-Zionist and Palestinian freedom of speech," the Jewish Chronicle reported.
The letter, written by campus BDS and anti-Israel activists, attempted to force CUNY officials into supporting BDS "without question."
It also demanded an end to "all methods of normalization with Zionist entities and organizations" while pledging to bring in anti-Zionist speakers "to show young adult Jewish youth that Zionism is not the only way."
While the letter claimed that it had the backing of "Jewish anti-Zionist students, faculty and groups at CUNY," many of the groups signing the letter were not Jewish, such as the "League of Young Communists" and "Rank and File Action."
The letter also alleged that pro-Israel staff and students at CUNY "aim to criminalize and demonize Palestinian students and workers" and called on the university ends its relationship with Hillel, claiming that the student organization is an "anti-Black, anti-Indigenous, Islamophobic, and anti-Palestinian organization."
The signatories of the letter further called for the creation of "networks and programs within the CUNY Jewish population to question, critique, and unlearn Zionism."
The letter was widely condemned by Jewish leaders and pro-Israel staff and students at CUNY.
Jewish Journal columnist Blake Flayton compared the letter to anti-Jewish Soviet propaganda.
"Throwbacks to Soviet re-education campaigns to un-Jew the Jews," he tweeted.
Campaign Against Antisemitism's Binyomin Gilbert tweeted: "Nice of them, 'educate the savages.'"