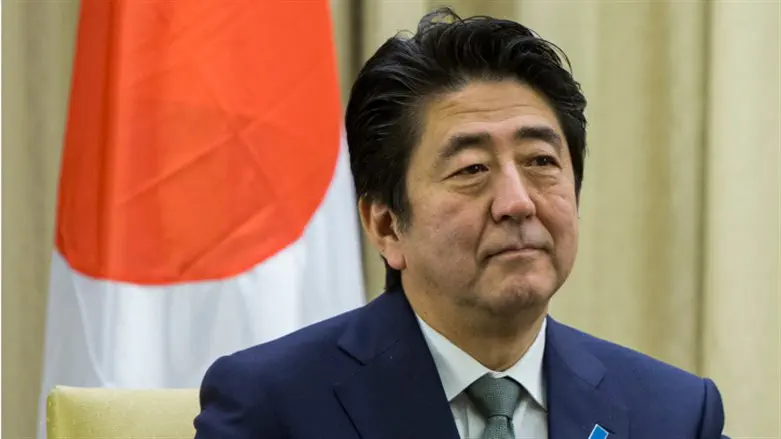 Shinzo Abe
Yonatan Sindel/Flash90
Israeli leaders eulogized the former Prime Minister of Japan, Shinzo Abe, Friday afternoon, after a gunman fatally wounded Abe during a speech in western Japan.
"On behalf of the Government and people of Israel, I send my condolences to the Japanese people and their government on the tragic death of former Prime Minister Shinzo Abe," Israeli Prime Minister Yair Lapid said, calling Abe a true friend of Israel.
"Abe was one of the most important leaders of modern Japan, and a true friend of Israel who brought about flourishing and prosperous relations between Israel and Japan. His heinous murder will not change his distinguished legacy."
"Today, Israel bows its head and mourns the loss of Abe together with the people of Japan."
Israel's president, Isaac Herzog, also released a statement mourning Abe's killing.
"Horrified by the despicable murder of Shinzo Abe, one of Japan's most preeminent leaders in modern times. We met when I chaired Israel's Opposition and I was deeply impressed by his leadership, vision and respect for Israel. Grieving with his family and the whole Japanese people."
Former Prime Minister Naftali Bennett paid his respects as well: "I am shocked and saddened by the tragic assassination of former Japanese Prime Minister Shinzo Abe. He was a strong and stable leader and a friend of Israel. My thoughts and prayers are with his family and with the people of Japan."
Former Prime Minister Netanyahu sent his condolences to Japan: '' My wife Sarah and I, along with all the citizens of Israel, mourn the assassination of a great leader of Japan and a huge friend of Israel, our dear Shinzo Abe. We send heartfelt condolences to his wife Akia and the Japanese people. I will always remember him with great appreciation and great appreciation for the brave friendship between us."
Knesset Speaker Mickey Levy commented "I am appalled by the assassination of former Japanese Prime Minister Shinzo Abe. I wish to send my condolences on behalf of myself and the Knesset to the Japanese people and Abe's family."
"The bullets that killed Abe also hit freedom of expression and our democratic system as a whole. As the speaker of the Israeli legislature, I am concerned and shocked that an election campaign deteriorates into such tragic and terrible violence."
"Abe was a true friend of Israel for many years and he even made time for an unplanned meeting with the Knesset's interparliamentary friendship group a month and a half ago in Japan".
Abe was shot dead while giving a speech in Nara Friday morning.
One 41-year-old male suspect was arrested in connection with the assassination.
NHK identified the suspect as Tetsuya Yamagami, a resident of Nara.
Police say the gun used in the deadly shooting appears to have been homemade.
Yamagami worked for the Maritime Self Defense Force for three years, ending his service in 2005.
Investigators say Yamagami revealed during interrogation that he was unhappy with the former prime minister, and wanted to kill him.