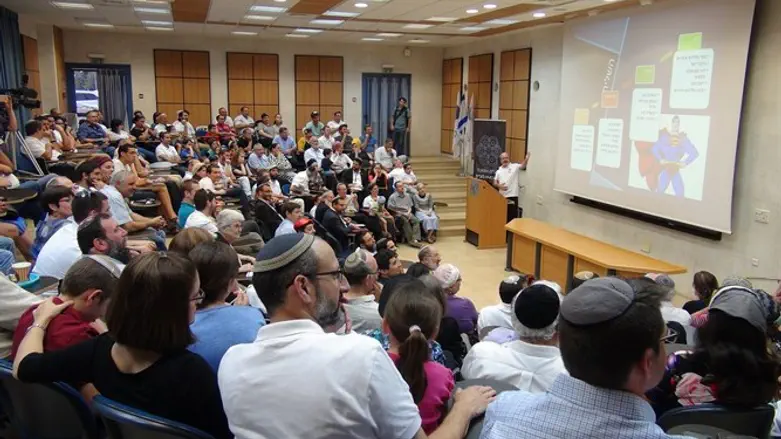 The blessing of the shattered tablets
Torah Mitzion is an organization which sends emissaries from Israel around the world, with one main goal - to learn and teach Torah throughout the Diaspora - and encourage aliya.
This week's Dvar Torah is by Rav Shalom Schwarz of Torah Mitzion's  Asseret Hadibrot Project, who discusses several questions that arise from Moshe's breaking of the tablets in response to the worshipping of the golden calf.
  Rabbi Shalom Schwarz
I grasped the two Tablets, and threw them down from my two hands, and I broke them in front of your eyes.   (Devarim 9,17)
I was once on an overseas flight and an elderly religious woman sat down in the seat next to me. I was struck by the joyful radiance that emanated from her face. At some point I said to her: "I feel an extraordinary sense of happiness coming from you. Do you mind if I ask you how did that come about?". "I was in Auschwitz" she answered calmly." In Auschwitz one had to choose to live or they died. Thank God I chose to live".

In this week's parsha, several questions arise from Moshe's breaking of the tablets in response to the worshipping of the golden calf.
Chazal say that God congratulated Moshe on his breaking of the tablets: yashar koach sheshibarta.  According to Rashi, this is the message of the last verse in the Torah.
"Before the eyes of all Yisrael" ( Devarim 34,12) Rashi comments: "That he ( Moshe) lifted his heart to break the Tablets in front of their eyes…and God affirmed His judgment with Moshe's as it says "which you broke" (Shmot 34,1). Yeyashar Kochacha Sheshibarta (You did the right thing that you broke them)" 
Why is that act worthy of this unique blessing and affirmation by God?

Why are the broken tablets eventually put in the Holy Ark and situated in the Holy of Holies? Wouldn't it make more sense to leave them behind, to not be constantly reminded of the shadow side of our past?
On a recent visit to Toronto, I was introduced to a man named Sol Reichert. Upon hearing that I was a rabbi from Yerushalayim, he ran upstairs to get an invitation to a siyum sefer Torah that he was making the following week." It would be a great honor if you were to celebrate this historic moment with me and my family. It is a fulfillment of my dream of over 70 years to have this written in memory of my family who were murdered by the Nazis.
Sol, a survivor of Auschwitz also had a joyful radiance that immediately struck both my wife and me. At the siyum, Sol was surrounded by his beautiful and adoring children, grandchildren and great grandchildren. After Sol spoke, his cousin, also a survivor, shared his story. "In the DP camps I was part of a group. We called ourselves the Nokmim, the Avengers. We were collecting arms to take revenge on the Nazis for the murder of our families and our People. At some point a representative of the Hagana showed up and conveyed this message: 'I understand and identify with your desire for revenge. But what will you accomplish? Kill a few dozen Nazis, maybe more, and then what? Will that actually avenge the millions that were murdered? Come join us to fight for the creation of the new State of Israel!'
And I chose to go with them. Today Israel is home to over six million Jews. What greater act of vengeance is there than that? What greater victory of the Jews over the Nazis is that? And today as we celebrate together the finishing of a sefer Torah sponsored by my cousin Sol, a survivor of Auschwitz, we celebrate the eternity of the Jewish People and of Judaism, and our victory over Hitler who sought to destroy both."

This siyum took place just before the 17th of Tammuz, the anniversary of the breaking of the Tablets: a day set aside to remember the impact of that day forever, a day that was to be celebrated with receiving God's tablets inscribed with the Ten Commandments written by God Himself. Instead it became a day of shattered tablets. But the day has a hidden potential:  a day to uncover the blessing of shattered tablets. A day of transformation, an opening for the light of teshuva.

 Through the breaking of the first Tablets the possibility of the second Tablets emerged… We see that the second tablets were created by Moshe , not by God. Psol lecha -- Hew them (for) yourself ( Shmot 34,1) . And Moshe's face shone when he brought those tablets down... not the first tablets.

The Kotzker Rebbe said that there is nothing more whole than a broken heart.  Perhaps the tablets are in the Holy of Holies because only when we face and embrace our shadows are we whole.

Moshe's heroic act of breaking the Tablets was the catalyst for this realization. The Torah was given to us as imperfect human beings, who 40 days latercould fashion and worship a golden calf. But therein lies the beauty, because we receive the message that no matter where we are or whatever is happening to us, everything is still possible….transformation — teshuva— is always possible. We can find ourselves anew, again and again and even receive a greater light.

The first Tablets were God's gift to us, the second Tablets are our gift to God.