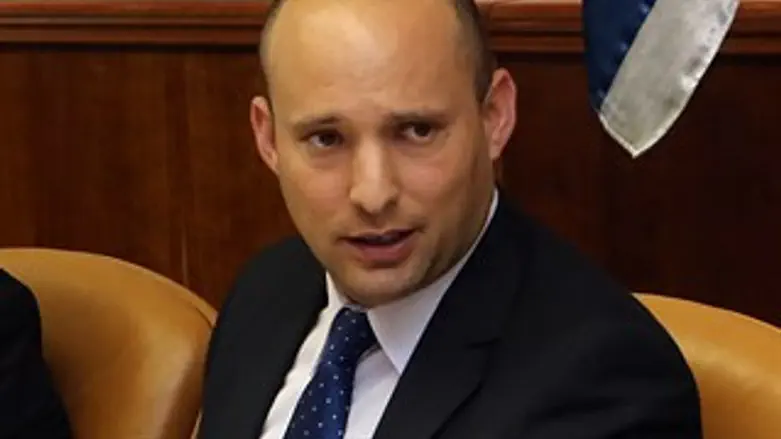 Naftali Bennett
While many, both in Israel and the diaspora, are accustomed to thinking of the Jewish world as being divided primarily between the "orthodox" or "religious," and the "secular" or "non-orthodox," the growing reality is that a realignment is taking place.
Modern orthodox Jews to an increasing extent define their "religiosity" as coexisting with modern western values (although there are controversies raging about how to accomplish that), while orthodox rejectionists, including both hareidim and some members of the national religious sector, perceive themselves as reacting against attacks on traditional Judaism.
Clashes between orthodox modernists and rejectionists seem to be becoming more frequent and more forceful. Though the growing divides within orthodoxy revolve around religious questions, in Israel religion is political. In an increasing number of cases some of Israel's modern orthodox are finding themselves becoming politically closer to "secular" Jews than they are to the rejectionists. The recent announcement of the establishment of a network of alternative, halakhic,
conversion courts
by a group of orthodox rabbis in Israel who are challenging the official rabbinate's monopoly on conversion, is only one such incident, although m
any religious Zionist rabbis opposed this move.
Other issues that have ignited clashes between orthodox rabbis include both marriage reform, and the integration of hareidim into the army, workforce, and society at large. The Yesh Atid Party that was built around the integration of hareidim includes two prominent orthodox rabbis and other "religious" activists. The so called "Tzohar law" through which reforms to the marriage registration process were enacted in 2013 also saw modern orthodox rabbis, including those from the Tzohar organization for which the law was named, pitted against hareidi counterparts.
In the "Riskin affair,"
Rabbi Dr. Shlomo Riskin
, one of the founders of Efrat, who has been its Chief Rabbi since 1983, reportedly had his position brought into jeopardy by members of the Israeli Chief Rabbinate's hareidi establishment, leading other prominent orthodox rabbis such as Yuval Cherlow and David Stav to publically support Riskin, including threats to
boycott
the Chief Rabbinate's own two Chief Rabbis. Riskin's Ohr Torah Stone organization offers a program for women who are studying for
smicha
(rabbinic ordination)
,
and earlier this year he appointed a woman to serve as "
spiritual leader
" of Efrat, a move not accepted by many Israeli Religious Zionist rabbis as well as U.S. based modern orthodox rabbis.
While two political parties clearly represent hareidi positions on religious matters, and other parties clearly oppose the hareidim, for Habayit Hayehudi, which acts as the political representative of the national-religious sector, religious issues pose a problem. Despite Israel's culture of party discipline, in which disagreements within a party usually do not go so far as to lead to divisions among party officials during votes, during a cabinet vote last year over the previous governing coalition's conversion reform, Uri Ariel, a minister from Habayit Hayehudi, found himself breaking with Party Chairman Naftali Bennett in order to vote against the reform.
Now, in reaction to the establishment of the alternative conversion courts, Eli
Ben-Dahan
, the Deputy Minister of Defense from Habayit Hayehudi, strongly opposed the courts, while Bennett has been somewhat
non-committal
, saying that they should not become a permanent fixture, but welcoming them as a tactic to help advance reforms within the Chief Rabbinate that he hopes will obviate the need for the alternative courts. Such reforms seem unlikely to succeed so long as the hareidi parties remain in the governing coalition.
Since joining the current coalition, Habayit Hayehudi has lent its weight to the nullification of the work done by the previous coalition (to which it was also a member) on hareidi integration as well as conversion reform and marriage reform. While they attempt to present themselves as a big tent party, parading Justice Minister Ayelet Shaked as their token secular candidate, Habayit Hayehudi's failure to provide clear-cut leadership on religious matters may have contributed to the ease with which four Knesset seats worth of voters who had supported them in the 2013 election seem to have abandoned them on election day this past spring. After-all, so long as the party that is supposed to represent the national-religious sector is unwilling to come down from the fence and show clear leadership on religious matters, why should any right-leaning religious individual not vote for the Likud?