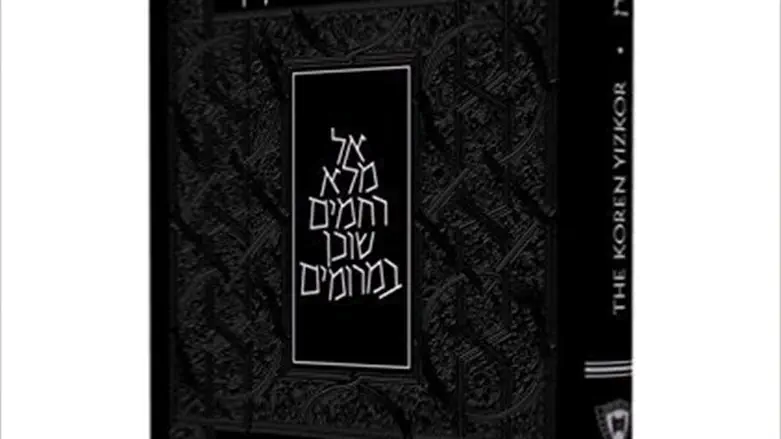 The Koren Yizkor
INN: Amazon

For millennia, the closing of Passover (Pesach) is signified by the incantation of Yizkor; a prayer ritual which is recognized throughout the Jewish world. From near and far, its heart-rending chanting for victims of antisemitism, the Holocaust and IDF soldiers reverberates inside the walls of the synagogue contrasting with its silently said prayers for beloved personally missed departed come together in a unifying deliverance.
It is during 4 Jewish holidays, namely, Yom Kippur, the last day of Pesach, the second day of Shavuot, and Shemini Atzeret, the day added at the end of Succot, that a beseechment before God is intoned; both privately and collectively. It is in memory, and in honor of the dearly departed that this soulful prayer resonates most acutely. While it can be said for others, traditionally, it is reserved for the passing of a parent, a child and a sibling. It is during the above sacred holidays that even non-traditional Jews are known to partake in this most elevating, deeply moving, and emotional experience. It serves as both an everlasting connection to loved ones on the one hand, and, on the other, to God. Humbling. Powerful.
But in a literal sense, Yizkor translates into "May He remember"; "He" being God, the Creator of the Universe. Having been called "home" for eternity, at its base, this prayer is meant to uplift the soul of loved ones within the spiritual plane. Underlying this sacred liturgy, rests the immortality of the soul.
And whereas this writer is hardly equipped to elaborate on the aforementioned subject - deferring to those who are truly steeped and learned in traditional Judaism to extrapolate upon - there are certain aspects which are entirely within this scope, that is, personally and emotionally.
While some readers of Arutz Sheva (and elsewhere) have come across the many investigations undertaken by this writer over the years, for the most part, they involve very thorny and hair-raising matters. But it is also the case, occasionally, that personal intersections (in one way or another related to the relevance of Yizkor, a coefficient of mourning and grief in Judaism) can be found within various sites, including this one.
These personal reflections are in no way meant to convey that today's emotive take-away is the sole purview of this writer. Not at all. For within the cycle of life, no one escapes the cycle of death - they are forever co-joined and intertwined. Each one has a story to tell. To remember.
Still, the fact remains that when one's professional career is steeped alongside the media, fair or not, it affords certain advantages - one of which is the expounding upon this and that (often delicate) subject matter. This is one of those times.
As such, the most heartfelt, soulful rendering to today's discussion (on the emotional facets of Yizkor) can be found here. At its core, unfortunately, it is universally relatable. It is along this continuum that a feature at Israel National News, Feb. 5, 2022, resides.
But it is the latest intersection with today's searing topic - featured March 19, 2022 - which brings it all full circle. It allows for the viewing of Yizkor through a renewed and more hopeful lens.
Housed within the heroism contained inside Who was anti-terror agent NYPD Detective Mordecai Zev Dzikansky, z"l (of blessed memory), rests a sister's pain. Yet, more importantly and looming large, lies the recognition that Yizkor will, forever, become a part of the lives of his 3 children, as they enter the cusp of young adulthood. Indeed, tragically and recently, many more join their ranks as newly-minted Jewish orphans.
From childhood, akin to too many young orphans, this writer has been uttering the prayer for a dearly missed mother; with a father added on in his twilight years. But when a beloved husband's name - called "home" in his prime and well before his time - became part of the prayer, an overwhelming feeling of sadness always intruded. Somehow, this Passover, it was subtly softened - all "credit" (unknowingly) to 1 of the orphans left behind by a dearly, departed brother.
It was after the first supplications - and in between the inescapable thought that Mordecai Zev Dzikansky, z"l, would be added, before even reaching the end-period of Shloshim - that a calming effect washed over, again, before the recitation of the name which always left this writer reeling.
During a day-long visit (upon the conclusion of the shiva period), this very special nephew started reminiscing about his much loved, and missed, Uncle Frank. Within this context, he marveled at the incredibly close relationship between his recently deceased dad and his favorite uncle. He recognized that they were not just brothers-in-law, but truly best friends. They were. Shockingly, he exclaimed: "Doda (Aunt) Adina, don't be sad. Let's think of the two of them together in the sh'mayim (heaven), catching up on all the fun times they shared over many years, and now giving comfort to one another!" Unconsciously, that image became seared.
It was with that depiction in mind, for the first time in 14 years, an unexpected calm washed over - when inserting the name of Frank Kutnicki, z"l, a beloved husband and father. Then, a dear brother was added for the first time.
Yizkor, an everlasting, fervent supplication. On a wing and a prayer. Adina Kutnickiis an investigative journalist, living in Israel since 2008. Her work concentrates on militant Islamic jihad and its western knock-on effects. She is the co-author of BANNED: How Facebook Enables Militant Islamic Jihad, She blogs at: Adina Kutnicki, A Zionist & Conservative Blog (www.adinakutnicki.com).