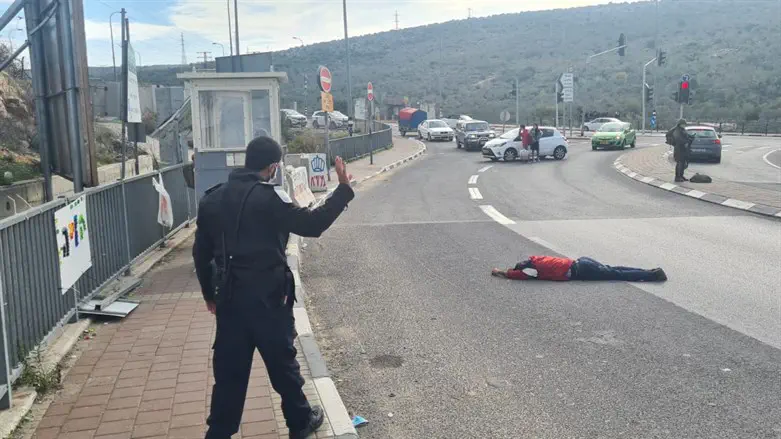 Attempted stabbing attack
Nadav Goldstein/ TPS
An armed Arab terrorist attempted to stab soldiers and civilians near the Gitai Avishar Junction in Judea and Samaria, the IDF said.
The would-be terror attack, which occurred near the Samaria city of Ariel, was prevented by alert IDF soldiers, who neutralized the terrorist, who later died of his wounds.
A woman of 18, who lives in Samaria, has suffered shock and is being treated at the scene by Magen David Adom and United Hatzalah paramedics.
The terrorist was evacuated to Petah Tikva's Beilinson Medical Center in critical condition, but died of his wounds a short time later.
It is suspected that the terrorist was transported to the scene of the attack by someone else, who escaped the scene. IDF soldiers are searching the area for the vehicle.
In a statement, the IDF said, "Following the initial report, a Palestinian vehicle arrived adjacent to a military post in Gitai Avishar Junction, in Judea and Samaria. An assailant got out of the vehicle armed with a knife, and ran towards the bus station where civilians and IDF soldiers were standing."
"The troops fired towards the assailant and neutralized him. No injuries were reported.
"Additional IDF troops in the area have blocked off a number of routes and are currently pursuing the vehicle and additional suspects."
The terrorist's weapon
IDF spokesperson