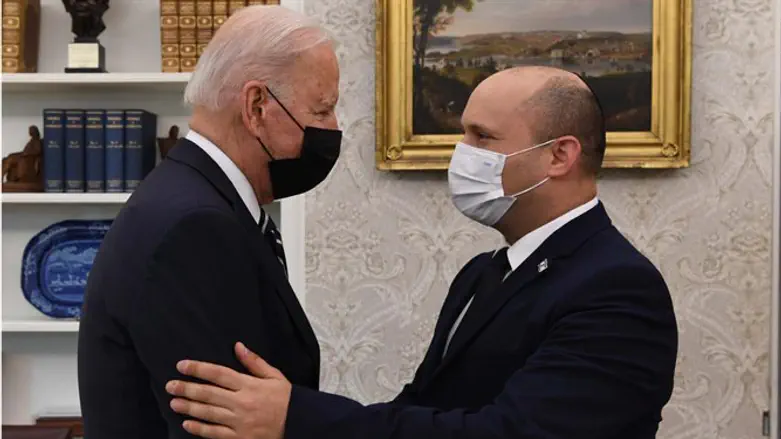 PM Bennett and President Biden
Avi Ohayon/GPO
US President Joe Biden told Prime Minister Naftali Bennett during their recent White House meeting that he will not abandon his plan to reopen the US consulate for Palestinian Arabs in Jerusalem, Barak Ravid of Axios reported on Wednesday.
The consulate handled relations with the Palestinian Arabs for 25 years before being shut down by the Trump administration.
Biden raised the consulate issue several times in his bilateral meeting with Bennett and in the expanded meeting with their aides, Israeli and US officials briefed on the meetings told Ravid.
According to the report, Biden stressed that he made a campaign promise to reopen it and that Secretary of State Antony Blinken had already gone on the record with a pledge to follow through.
Bennett made clear that he opposed that policy, but proposed that officials from both sides meet to work toward a solution.
The Israeli government would have to give its approval for the consulate to be reopened, a move that is opposed by several ministers, including Interior Minister Ayelet Shaked and Justice Minister Gideon Sa'ar.
A senior Israeli official said the Israelis had expressed their concerns about the destabilizing potential of the consulate issue several times to the Biden administration.
The Biden administration previously agreed to delay the reopening of the consulate until after the November 4 deadline for Bennett to pass a budget.
Last week, noted Ravid, State Department spokesperson Ned Price stressed that Blinken's commitment to reopen the consulate, made in May during a visit to Israel and the Palestinian Authority, still stands. The White House declined to comment for this story.
No steps are expected on this issue before November, meaning the sides have some time to work toward a mutually acceptable solution.