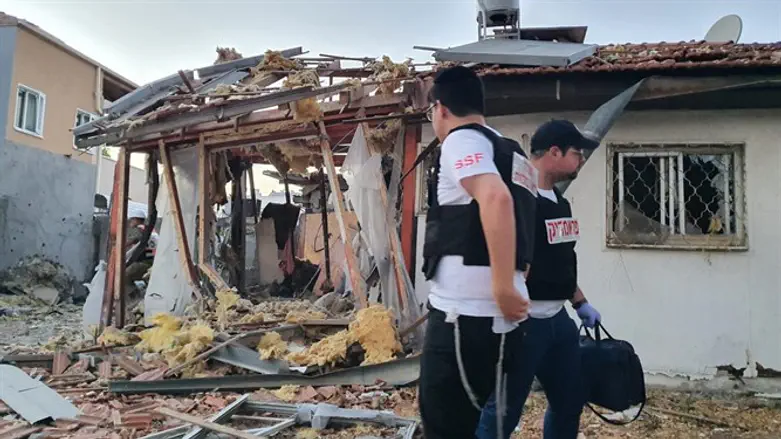 Scene of rocket attack in Ashkelon
Hatzala Lelo Hagbala
Five-year-old Ido Avigal, who was injured when a rocket hit an apartment in the city of Sderot on Wednesday, died of his wounds.
Seven other people were injured in the direct hit.
Sderot Mayor Alon Davidi met the father after he was informed of his son's death, strengthened him and paid condolences on behalf of the residents of Sderot. The boy's mother is hospitalized and his seven-year-old sister was injured and is undergoing a series of tests.
Israeli President Reuven Rivlin sent condolences to the family, tweeting: "Ido with the beautiful eyes.
We weep for you, beloved boy. Weep for your short, pure and innocent life, cut short by despicable Hamas. Dear Avigal family, we are with you in this terrible pain."
At around 7:20 p.m., heavy barrages of rockets were fired at Gush Dan and central and southern communities.
After the launches, a direct hit was identified on a house in Ashkelon. Much damage was done to the structure, but no injuries were reported.
In Sderot, a direct hit was also identified at the house, where the Avigal family lives.
At the same time, IDF fighter jets this evening attacked a 14-story building in the southern Gaza Strip which housed the military intelligence offices of the Hamas terrorist organization, as well as communications infrastructure used to convey tactical-military messages by the terrorist organizations.
מבנה המודיעין
צילום: דובר צה"ל
The Political-Security Cabinet is currently convening for a special discussion in order to decide whether to expand the operation. The IDF attacked another high-rise building in the Gaza Strip and a squadron of Islamic Jihad anti-tank missile launchers.
Earlier, Sergeant Omer Tabib, 21, from Elyakim, was identified as the combat soldier from the Nahal Brigade who was killed today, Wednesday, by an anti-tank missile near Netiv Ha'asara in the Gaza Strip. He is survived by his parents, Tali and Amir, and one brother in ninth grade. His funeral will take place tomorrow.
An IDF officer and another combat soldier were lightly and severely wounded in the incident, and they were evacuated under mortar fire to Barzilai and Soroka hospitals.