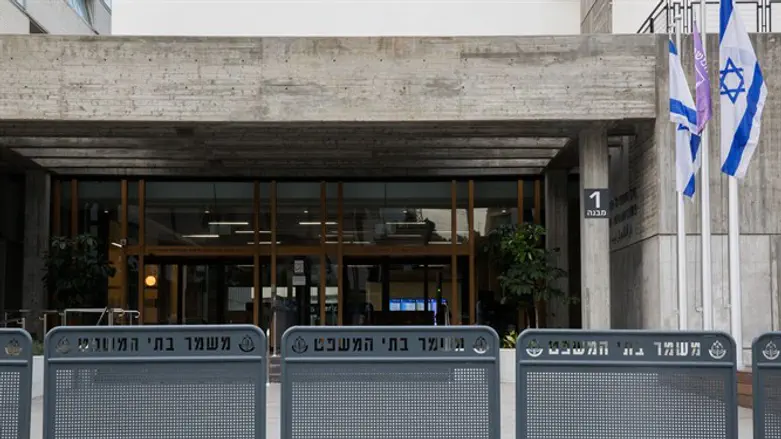 Tel Aviv court
Flash 90
Tel Aviv Magistrate Judge Dan Saadon today was diagnosed with coronavirus, the court administration said.
Anyone who was present in the judge's courtroom from last Sunday, June 21, onward, should contact the Health Ministry for guidance. Four judges and five employees who came in contact with the judge were notified to enter isolation.
The Health Ministry this morning said the number of confirmed cases of coronavirus continues to rise in Israel, with more than 7,000 active cases of the virus as of this morning.
There were 714 new confirmed cases of the virus Monday, with another 121 cases reported Tuesday morning, bringing the total number of active cases to 7,096.
The figures also show that in Jerusalem there are 756 active carriers, in Tel Aviv 697, in Bnei Brak 555, and in Ashdod - where there has been a sharp increase in the number of infected in recent days - the number has reached 348.
In addition, Bat Yam has 253 coronavirus cases, in Arara in the Negev there are 213, Rahat, 196; Tiberias,109; Beit Shemesh, 95; and Ramla 86.
The Coronavirus Cabinet last night unanimously decided to accept the Health Ministry recommendation to allow gatherings of up to 50 people. However, cultural shows and banqueting halls will be exempted from this and there the number of participants may reach 250 people without the possibility of increasing the number of participants. The ministers also confirmed that students may be tested remotely.
Limiting gatherings to 50 people includes circumcisions and funerals, as well as gathering in synagogues. With regard to weddings, the maximum number of participants until July 9 will be 250 people. In outdoor event halls and open spaces the maximum number will continue to be 250 people, but in closed halls - only 100 people. This restriction will be in effect until July 31.