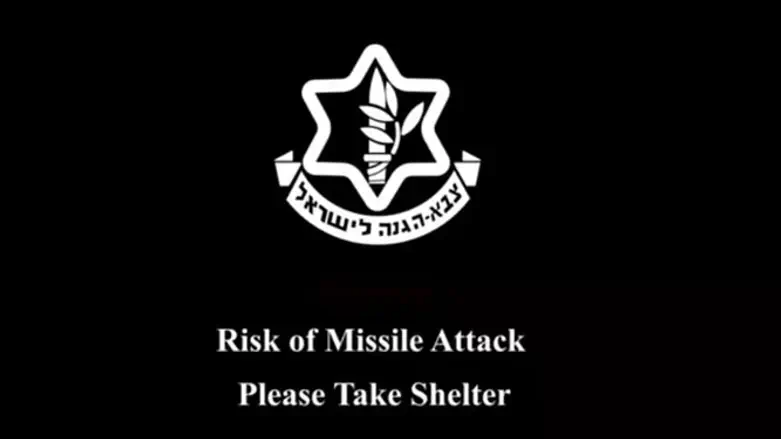 Text which appeared on Kan website during suspected hacking
Photo: TPS
Pro-Palestinian hackers on Tuesday evening broke into the website of the Israeli Broadcasting Corporation Kan during the first semi-final of the Eurovision Song Contest.
Instead of the live broadcast on the site, a video of missiles landing in Israel was shown for a few minutes, along with the message: "Risk of Missile Attack, Please Take Shelter".
Following the incident, the Israeli Broadcasting Corporation said, "We believe that the messages were not seen by many people. The European Broadcasting Union and the Israeli Broadcasting Corporation Kan regard the issue of cyber security as very important and the issue is being examined."
At the conclusion of the first semi-final, the songs of 10 countries were selected as finalists for the final: Greece, Belarus, Serbia, Cyprus, Estonia, Czech Republic, Australia, Iceland, San Marino and Slovenia.
The second semi-final will be held on Thursday evening, in which 10 additional countries will be selected for the final, which will be held on Saturday night at the EXPO Tel Aviv.
The 10 countries selected on Tuesday, along with the 10 countries selected in the second semi-final, will compete in the final and will be joined by Israel, Britain, Spain, Italy, Germany and France.
Israel won the right to host this year's contest following Netta Barzilai's victory in last year's contest with her song "Toy".
There have been numerous calls to boycott the Eurovision Song Contest this year due to the fact that is being hosted by Israel.
Most recently, 50 public British figures signed an open letter calling for the contest to be moved to another country because of alleged Israeli "human rights violations".
Despite the repeated calls for a boycott, dozens of countries are participating in the 2019 contest.
In addition, pop star Madonna will perform at Saturday night's final and has refused to cancel her appearance despite pressure from the anti-Israel Boycott, Divestment and Sanctions (BDS) movement.