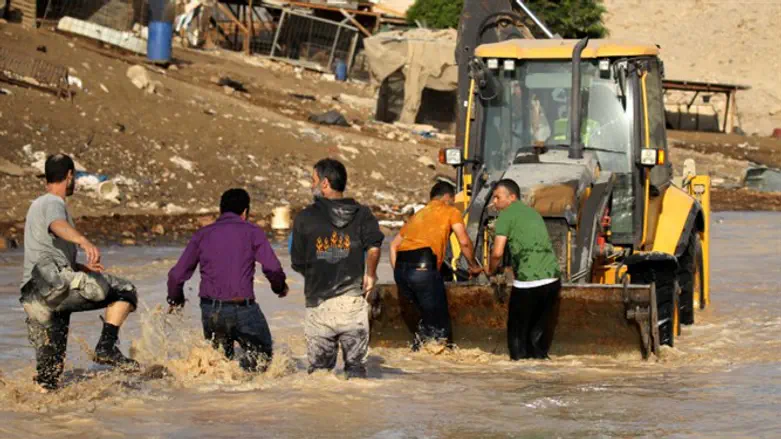 Protesters block bulldozers outside of Khan al-Ahmar
Wisam Hashlamoun/Flash90
Israeli forces prepared for the demolition of an illegal Bedouin encampment east of Jerusalem Monday, moving bulldozers into position ahead of the evacuation of the unauthorized community.
Arab media outlets claim three IDF bulldozers were positioned at the edge of the town, Khan al-Ahmar, with a number of army units deployed around the perimeter.
Protesters attempted to block the demolition teams from moving into position, and at least four demonstrators were taken into custody.
Protesters attempt to block Israeli forces in Khan al-Ahmar
Wisam Hashlamoun/Flash90
First built in the 1990s, today Khan al-Ahmar is home to some 170 Bedouin. The encampment was built without any authorization or building permits next to the Israeli town of Kfar Adumim, east of Jerusalem.
Israeli courts approved the outpost's demolition, but in July the Supreme Court froze plans to evacuate Khan al-Ahmar, pending an appeal by residents.
Israeli security forces had been preparing for the planned demolition, which was set to commence just hours before the court intervened.
In September, the Supreme Court ruled against Khan al-Ahmar, paving the way for its demolition.
On September 23rd, the Defense Ministry's Civil Administration notified residents that they had one week to evacuate the encampment voluntarily. Any squatters remaining on the site afterwards would be forcibly evacuated.
The European Union and United Nations have condemned the planned demolition of the illegal encampment.
The Palestinian Authority urged protesters to actively resist the evacuation, and filed a war crimes suit against Israel for the evictions.