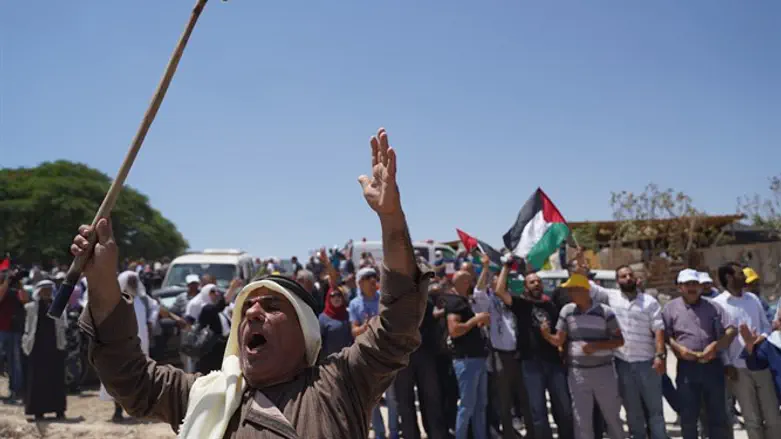 Raising cane in protest of home demolitions
Flash 90
HaMoked: Center for the Defense of the Individual, which benefits from New Israel Fund budgets, is providing legal assistance to the family of the terrorist who murdered Duvdevan fighter Ronen Lubarsky.
HaMoked filed petitions against the demolition order to the terrorist's house that was issued by Central Command head Nadav Padan at the beginning of the week.
The family of the fighter hopes the Supreme Court will not prevent the demolition and hopes the terrorist will be sentenced to death. "We congratulate the defense establishment on issuing a demolition order and hope the Supreme Court will not delay the demolition or render it meaningless by destroying a room or a wall," the family said.
According to them, "the purpose of the destruction is not revenge but deterrence and prevention of terror. We demand that the defense establishment toughen the sentence and issue a death sentence to the terrorist who murdered Ronen."
תיעוד: פעילות דובדבן ביום בו נהרג סמ"ר רונן לוברסקי ז"ל
דובר צה"ל
At the beginning of the week a demolition order was issued for the house of the terrorist who killed Lubarsky during an operation to arrest a terror cell planning a shooting attack on Psagot.
Sgt. Ronen Lubarsky, a Duvdevan fighter, was critically wounded with a marble block that a terrorist threw during an operation against a squad of terrorist operatives involved in shooting attacks in Judea and Samaria.
Jews against terrorist home demolitions
Flash 90
Sgt Ronen Lubarsky Hy"d
Family