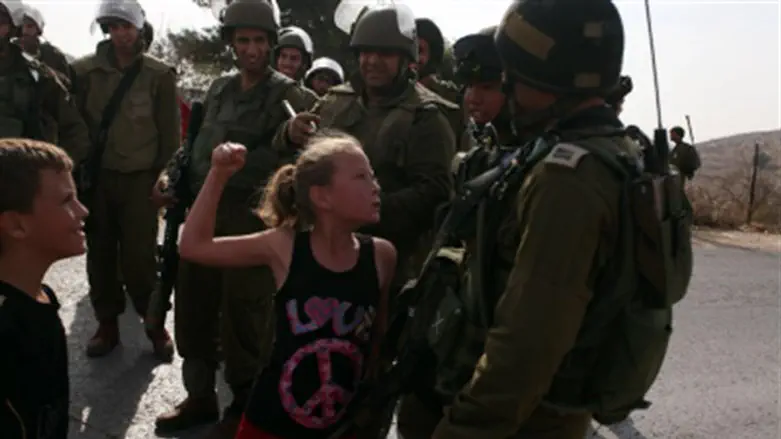 Ahed Tamimi challenging IDF soldiers
Flash 90
Soldier-slapping teen Ahed Tamimi will be released from Hasharonim prison this upcoming Sunday.
Following her release, Tamimi will hold a press conference at the illegal Bedouin outpost of Khan Al Akhmar, which is scheduled to be demolished by the IDF within the next month.
On December 15th, 16-year-old Ahed Tamimi, her 21-year-old cousin Nour Tamimi, and Ahed's mother, Namiran, confronted two IDF soldiers stationed in the town to keep the peace, following the outbreak of riots in the area.
During the encounter, which was filmed, all three of the Tamimis attempted to provoke the soldiers, shoving, slapping, and kicking them while shouting at them. Neither of the soldiers responded to the provocations, and none of the three Tamimis was arrested at the time.
The video recording of the incident went viral, sparking a backlash from Israeli nationalists who demanded the three be punished for their assault.
On December 19th, the IDF arrested 16-year-old Ahed Tamimi during a raid of her family's house in Nabi Salih.
Israeli authorities later arrested Nour Tamimi, 21, and Nariman Tamimi.
Ahed and Nariman were charged with aggravated assault and interfering with an IDF operation. Ahed was also charged with throwing stones at Israeli security forces.
In June, the Parole Board rejected Ahed Tamimi's appeal to reduce her sentence by a third after her appeal had been opposed by the Shin Bet on the grounds that she was a dangerous and ideologically motivated criminal and that her sentence should serve as a deterrent.