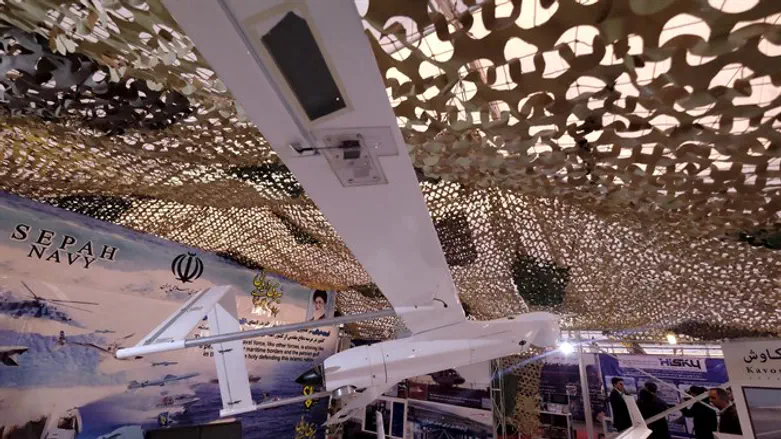 Drones made by Iran's Revolutionary Guard seen at exhibition in Tehran (archive)
Reuters
The unmanned aerial vehicle (UAV) which was shot down after it invaded Israeli airspace from Syria on Wednesday, was manufactured in Iran, News 2 reported Thursday night.
According to the report, the UAV was found to be an Ababil drone, an Iranian-produced model which specializes in reconnaissance, photography and assault missions.
The drone flew 10 kilometers into Israel before it was shot down by an Israeli Patriot missile. The incident caused the Red Alert siren to sound in the Golan Heights and the Jordan Valley.
IDF Spokesman Ronen Manelis stated: "From the moment the Syrian drone was identified, we had full operational control over his movement. Our forces carried out a number of defensive actions to prevent friction, and once they met the optimal conditions, we intercepted and destroyed it."
The IDF targeted three military posts in Syria overnight Wednesday in response to the infiltration by the UAV.
"The IDF will continue to operate determinedly and decisively against any attempt to breach Israeli sovereignty and will act against any attempt to hurt its civilians," said the IDF Spokesperson's Unit in a statement.
In February the IDF shot down an Iranian drone which infiltrated Israeli airspace from Syria. The drone was later found to have been armed with explosive weapons.