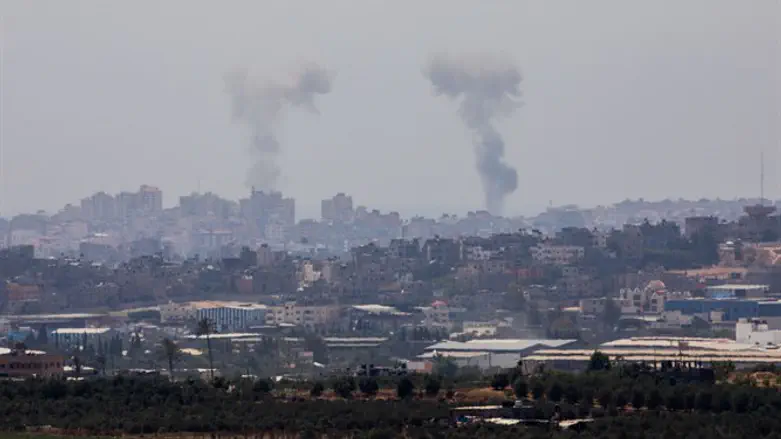 Airstrike in Gaza (archive)
Yonatan Sindel/Flash 90
Following the IDF's air strikes in Gaza which came in retaliation for Tuesday night's rocket barrage on southern Israel, the terrorist organizations in the Gaza Strip threatened on Wednesday that the policy of fire in response to fire would continue in order to "prevent Israel from imposing its aggressive rules of the game on the Palestinian people."
In a joint statement, the terrorist organizations operating in Gaza imposed full responsibility on Israel for "any act of aggression against Gaza."
They warned that all attempts by Israel to stop Palestinian popular activity would only cause further use of force.
The statement added that "the resistance and the weapons will continue to be the shield that protects the Palestinian people from aggression, and the readiness and swift and coordinated response of the resistance organizations are proof of the seriousness of their intentions."
The Gaza terrorist organizations claimed joint responsibility for the rocket barrage which struck Israel overnight Tuesday, claiming they fired at "seven military targets" in the Gaza Belt region.
One of the 45 rockets that were launched from Hamas-ruled Gaza landed next to an Israeli kindergarten in the Eshkol Regional Council, an IDF spokesperson said.
Police were called to the scene, and shut down the area surrounding the school. A police bomb unit recovered the remains of the rocket, ensuring that the projectile was fully neutralized.