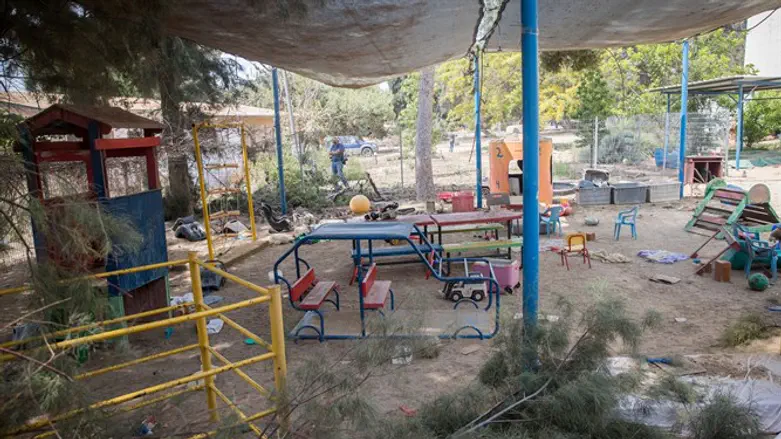 Kindergarten hit by mortar fire
Flash 90
Khalil al-Haya, a member of the Hamas political bureau, claimed on Thursday that Israel had a growing interest in reaching a ceasefire during the last round of conflict in Gaza.
"The enemy was in a rush to achieve calm. They contacted mediators and we told them that we are ready for calm if the enemy commits itself to it and that we will not accept new rules and realities on the ground," he said in an interview with Hamas' Al-Aqsa TV.
"During the last round of the resistance, the resistance organizations were careful to direct their limited attacks to Israeli military positions," claimed al-Haya.
One of the more than 100 mortars and rockets fired from Gaza earlier this week struck a kindergarten shortly before students were set to arrive, and another damaged a home.
Al-Haya said in Thursday's remarks that Hamas is not striving for war, but is ready for a scenario of war and has the ability to attack targets located further than the area surrounding the Gaza Strip.
Al-Haya denied reports that Egypt had asked Hamas to stop the so-called "Marches of the Return", saying that the Egyptians wanted to strengthen the peaceful nature of the demonstrations.
Hamas said on Wednesday that it had agreed to an informal ceasefire with Israel, hours after Israel struck more than 65 targets in Gaza following a barrage of mortar and rockets that were fired at southern Israel.
On Thursday, a senior IDF official said that Hamas has been significantly weakened following the latest rounds of clashes with Israel and is ready for far-reaching negotiations.
"The army's sharp response crippled Hamas' naval force, as well as their drone manufacturing capabilities and infrastructure," the officer said.
"That quickly brought Hamas to ask for a ceasefire by Tuesday afternoon via an intermediary, with a request not to escalate the situation [any further]."