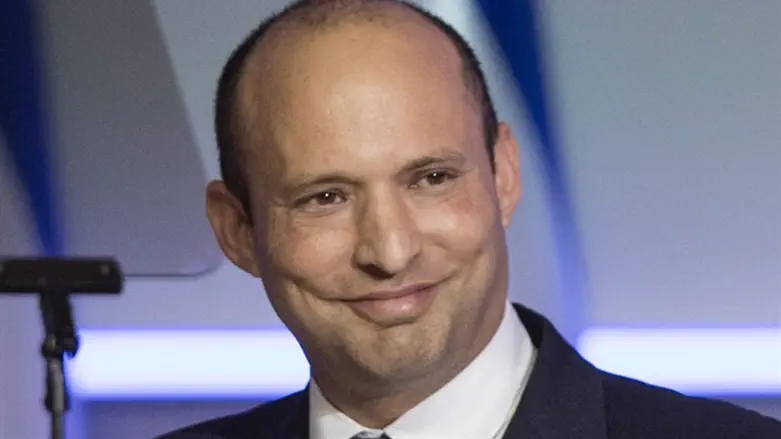 Bennett
Flash 90
The Jewish Home party is concerned that Prime Minister Binyamin Netanyahu intends to defuse enactment of the Overrule Clause that would under specified conditions allow the Knesset to re-enact laws that the Supreme Court has ruled out.
Jewish Home claims that after bombastic statements coming from Netanyahu in the week following Passover, the whole process is now completely stalled.
In light of this, party Chairman Naftali Bennett decided to promote the bill independently, in hopes for a majority in the Ministerial Committee on Legislation which would force the entire government to advance the issue.
The proposal to be raised seeks a broad-based Overrule Clause, according to which the Knesset will be able to re-enact a law that was rejected by the Supreme Court with a majority of 61 Knesset members.
The coalition faction head meeting that convened to discuss supporting the Overrule Clause adjourned with an agreement that legislation on the issue would be advanced during the Knesset's summer session.
However, the meeting was not attended by Kulanu Chairman and Finance Minister Moshe Kahlon, who was abroad. Party leaders are to meet with Kahlon today to hear his opinion on the subject. It was also agreed at the meeting that in parallel with continued discussions, Netanyahu will meet soon with Supreme Court Chief Justice Esther Hayut.
Knesset Member Bezalel Smotrich (Jewish Home) has not been convinced of Netanyahu's serious intention to pass the Overrule Clause. "Netanyahu's test if he really wants to pass the Overrule Clause or just use it as an excuse to advance elections will be whether today at the end of the party leaders' meeting he instructs passage of the Overrule Clause in ministerial committee this week," he said previously.
Smotrich is on record saying that if Netanyahu does not fight to advance the clause, "the failure to deport the infiltrators will be on his head.
"If he adjourns the party leaders' meeting with a rationalization and says as long as there are no prior agreements he won't start to legislate in practice, it shows that it was all a poor excuse for elections," Smotrich said.